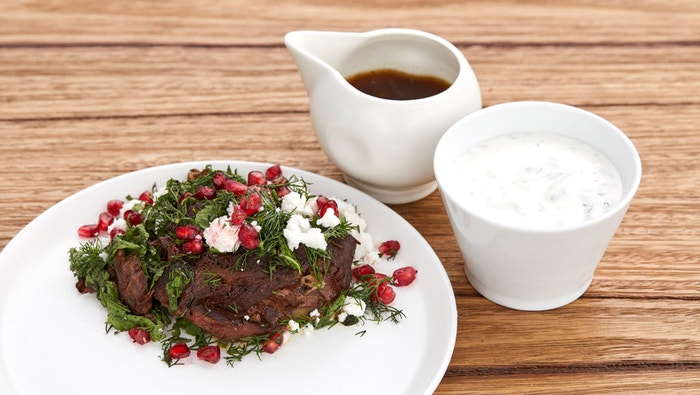 Steps
Preheat oven to 160C.
For the Lamb Shoulder with Sumac, season the lamb generously with sea salt and cracked pepper then cover the lamb with sumac. Set aside.
Place a medium flameproof oven safe baking dish onto medium heat. Once hot, add the olive oil, vegetables and garlic and cook, stirring, until browned, about 4-5 minutes. Remove the vegetables from the dish and set aside.
Add the lamb and sear well on all sides until the lamb is browned and the fat has begun to render. Meanwhile, heat the stock in a small saucepan.
Return the vegetables and garlic to the dish; add the hot stock and pomegranate molasses. Cover the dish tightly with foil and cook in the oven for 4 hours. Remove from the oven.
Alternatively, prepare and brown the lamb and vegetables as above then transfer to a heated pressure cooker. Add the hot stock and pomegranate molasses, seal and cook on high pressure for 1 hour and 45 minutes.
Transfer the lamb to a clean baking dish, reserving the cooking liquid.
Increase the oven temperature to 200C. Finish the lamb in the hot oven for 15-20 minutes. Remove from the oven, cover loosely with foil and set aside.
Meanwhile, for the Jus, strain the reserved cooking liquid into a small saucepan. Remove the fat from the surface then simmer over medium heat until reduced by half. Transfer to a small serving jug and cover to keep warm.
For the Mint and Lime Yoghurt Sauce, mix ingredients together in a medium mixing bowl then transfer to a small serving dish.
To serve, roughly chop the fresh herbs and crumble the feta. Shred the lamb into large chunks, then top with the herbs, feta and pomegranate seeds. Serve with the Jus and Mint and Lime Yoghurt Sauce on the side.