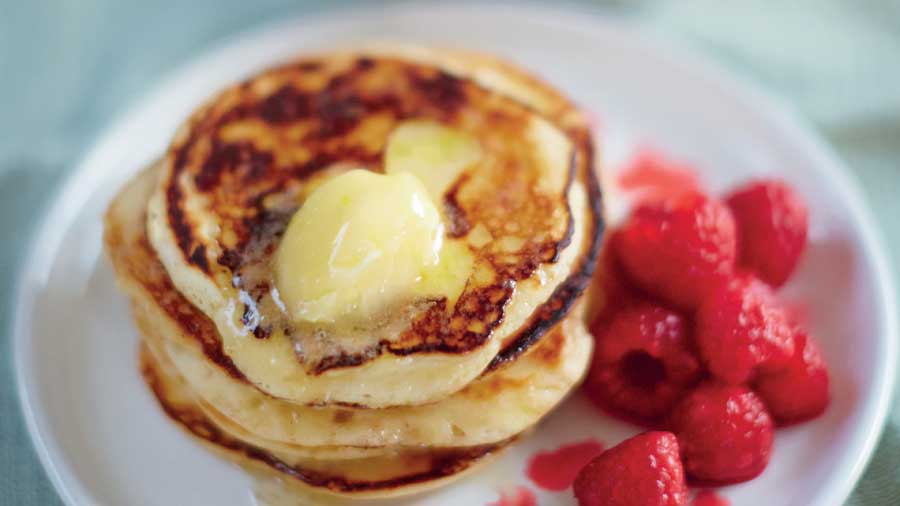 Ingredients
For the sweet lemon butter
For the melted raspberries
Steps
First make the sweet lemon butter. Combine the ingredients in a medium bowl and beat with an electric mixer until smooth and creamy. Set aside at room temperature.
To make the melted raspberries, heat a large, heavy frying pan over medium–high heat. Add the raspberries, sugar and lemon zest and cook for about 45 seconds until the sugar melts and the berries soften only slightly and begin to release their juice to form a syrup. Don't let the berries cook too long or they will become mushy and lose their beautiful shape. Remove from the heat and keep warm.
To make the pancakes, whisk together the ricotta and egg yolks in a large bowl to blend, then whisk in the buttermilk. Sift the flour, baking powder and salt into the ricotta mixture and whisk once more until just combined.
In a separate bowl, whisk the egg whites with the sugar just until stiff peaks form. Using a large silicone spatula, gently fold the egg whites through the batter in two batches.
Heat a flat, smooth griddle pan over medium–low heat. Melt some of the unsalted butter on the griddle. Make the pancakes in batches of about three at a time (or more if you are making small pancakes). Ladle the batter on to the griddle and cook the pancakes for about 3 minutes per side until they puff, turn golden brown and are just cooked through. Transfer the pancakes to plates.
Immediately after the pancakes come off the griddle, spread some sweet lemon butter over them and spoon on some of the warm melted raspberries and the accumulated raspberry syrup, then serve. Repeat to make and serve more pancakes.
Notes
I perfected these pancakes as a young chef while working at The Savoy Hotel in Melbourne, and have been making them ever since. Truly, they are my all-time favourite pancakes! Now that my son Hudson is walking and talking, I like to make big pancakes for the grown-ups and fifty-cent-sized pancakes for him. I call the raspberries 'melted' because they're quickly cooked with a touch of sugar just until they begin to soften and release their juice, but still retain their beautiful shape. Beating icing sugar and lemon zest into the butter makes it creamy and lighter in texture (not to mention utterly delicious!) – perfect for spreading over these pancakes, or waffles, toast, crumpets or scones. A good morning, indeed.