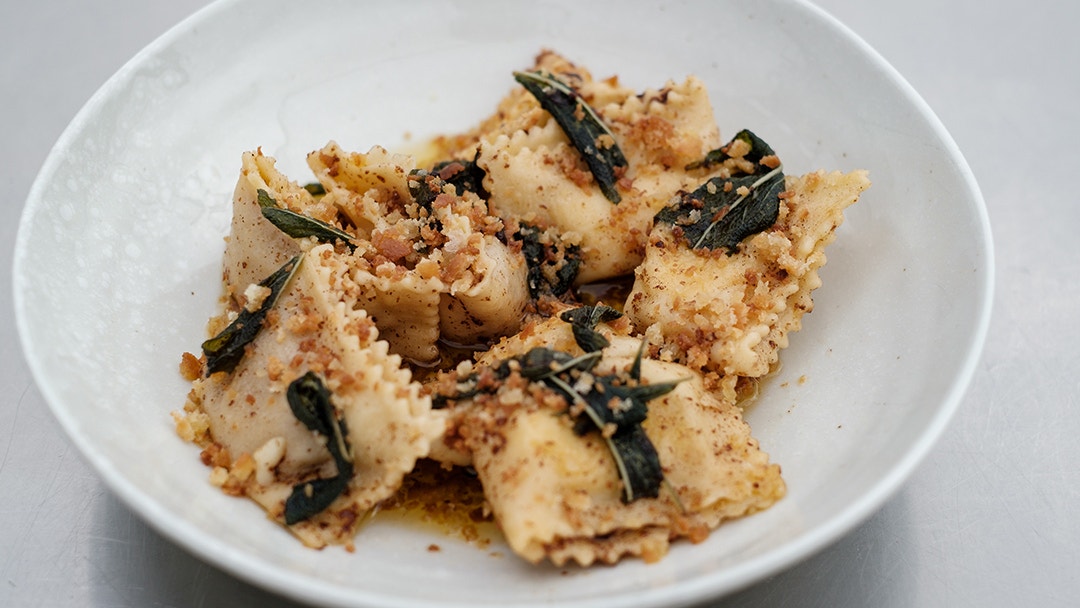 Steps
Preheat oven to 200°C fan-forced. Line an oven tray with baking paper.
For Roast Pumpkin, line an oven tray with baking paper. Place chopped pumpkin on the tray, drizzle with oil and season with salt, pepper and nutmeg.
Place garlic bulb on a square of foil, drizzle with a little oil and season with salt. Place on the tray of pumpkin.
Bake pumpkin and garlic for 30-40 minutes or until pumpkin is caramelised and garlic is soft.
For the Roast Pumpkin, reserve one confit garlic clove.
Transfer pumpkin and peeled garlic to a food processor and process until smooth. Add the chèvre and pulse through.
Add the pecorino and chilli oil and fold through. Season with salt and pepper. Set aside to cool.
When cool, transfer pumpkin puree to a piping bag and set aside.
For the Pasta Dough, combine flour, semolina, eggs, salt and oil in the bowl of a stand mixer. Mix with the dough attachment on low heat until dough comes together. Increase to medium heat and knead for 3 minutes or until a soft but firm dough forms. Wrap the dough in plastic wrap and set aside to rest.
For the Ricotta, combine milk, cream and vinegar in a small saucepan and bring to the boil. Remove saucepan from the heat and set aside for 10 minutes or until curds separate from the whey.
Use a fine spider to lift curds into a muslin lined fine sieve. Set aside to drain and cool.
Transfer drained ricotta to a small food processor, season with lemon zest and salt and process to a smooth puree. Transfer to a piping bag and set aside.
For the Pangrattato, tear the ciabatta into large pieces, place in a food processor and pulse to coarse breadcrumbs.
Warm the oil and confit garlic bulb in a large frying pan. Add breadcrumbs and salt and cook over low heat for 4-5 minutes or until golden.
Transfer pangrattato to a paper towel lined tray and set aside to cool.
Bring a large saucepan of salted water to the boil.
To assemble ravioli, cut pasta dough into quarters. Working with one portion at a time, dust the dough in flour and pass through the pasta roller. Fold in half and pass through roller. Repeat three times then pass dough through the roller to the third last setting.
Lay the sheets on a floured bench and cut each sheet into ten 12cm wide pieces. Fold each piece in half then unfold. Pipe a small amount (approximately 1 teaspoon) of each filling on one side of the fold, close to the fold line, and about 2cm apart.
Lightly brush water around the filling. Fold the dough at the fold line to cover the fillings. Using a thin dowel, press down on the dough between and along the fillings to seal.
Using a ravioli cutter, trim the cut edges then bring the two short edges together and press to seal. Stand the ravioli upright on a floured tray to maintain their shape.
Repeat with remaining pasta dough.
Meanwhile, in batches, add the ravioli to boiling water and cook for 2½-3 minutes or until al dente. Drain the pasta well, reserving 50ml of pasta water and set both aside.
For the Brown Butter, place butter in a medium saucepan and allow to boil over medium heat until butter foams and smells nutty.
Add the sage and allow to soften in the butter for 30 seconds. Add lemon juice and 50ml of reserved pasta water and stir. Season with salt and pepper.
Add the drained ravioli and toss through the butter.
To serve, place ravioli upright onto serving plates. Spoon Brown Butter over and inside the ravioli. Garnish with fried sage leaves and Pangrattato.