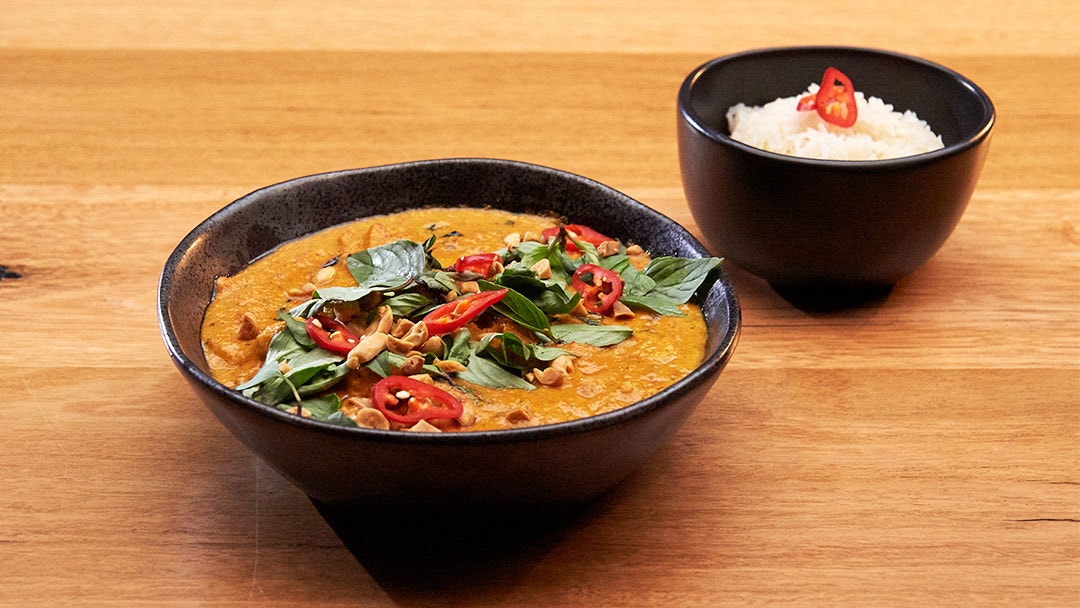 Ingredients
Pumpkin and Eggplant Curry
Steps
Preheat oven to 200C.
For the Penang Curry Paste, place all ingredients along with 4 tablespoons of the oil into a blender then process to a very smooth paste. Set aside.
For the Pumpkin and Eggplant Curry, cut pumpkin into 4cm cubes and toss with oil to coat. Place the pumpkin cubes onto a baking tray and roast until soft, about 25-30 minutes.
Meanwhile, for the Penang Curry Paste, place the remaining 1 tablespoon of oil into a wok over medium heat. Add the paste and cook, stirring until caramelised but not burnt, about 10-12 minutes.
Add eggplant and toss to coat in the paste and cook for 2 minutes. Add coconut cream and milk, bring to a boil then reduce the heat to low and simmer until eggplant is tender, about 20 minutes. Add tamarind, sugar and fish sauce to taste.
Once pumpkin is roasted, add to the curry and stir to mix through. Remove from heat and stir in most of the basil leaves just before serving.
For the Lemongrass Rice, place ingredients into a rice cooker and cook according to manufacturer's instructions.
To serve, spoon curry into serving bowls and garnish with basil leaves, peanuts and chilli. Serve with Lemongrass Rice on the side.