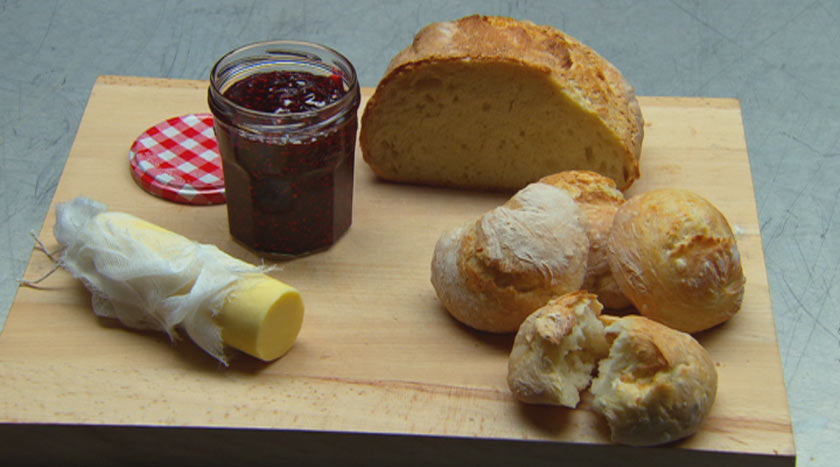 Steps
Bread
For the bread, combine flour, salt and yeast in a large bowl. Stir in water until well combined. Cover with plastic wrap, then refrigerate overnight
Remove bowl from fridge 1 hour prior to cooking, and allow to come to room temperature.
Preheat oven to 220C.
Line two baking sheets with baking paper, and generously dust sheet with flour. Place half of the dough onto one tray and place in oven for 1 hour or until golden, and the inside sounds hollow when knocked on the base. Make rolls and a smaller long loaf with remaining half of dough. Bake in oven for about 40 minutes or until golden and hollow inside.
Raspberry Jam
For the raspberry jam, place raspberries and sugar in a saucepan set over medium heat. Cook mixture for 2 minutes, stirring until sugar dissolves. Add lemon juice and skin, and cook for about 20 minutes until thickened, and has reached a jam-like consistency, stirring regularly. Remove lemon skin and discard. Divide jam between 2 sterilised jam jars. The jam will set as it cools down.
Meanwhile, for the butter, place cream and sour cream into the bowl of an electric mixer, and whisk until mixture splits, separating butter from buttermilk. Drain through a colander. Pour iced water over butter to rinse off any excess whey. Transfer butter to a piece of baking paper, season with salt, and roll into a log. Refrigerated until needed.
Serve bread warm with homemade butter and jam.
Notes
Makes 1 large round loaf, 1 long loaf and 6 rolls.
My friend, Kareen Coomer, whose husband runs Pata Negra in Perth, taught this recipe to me. He's a chef, and she's the sort of home cook, every cheat should have as a hero.