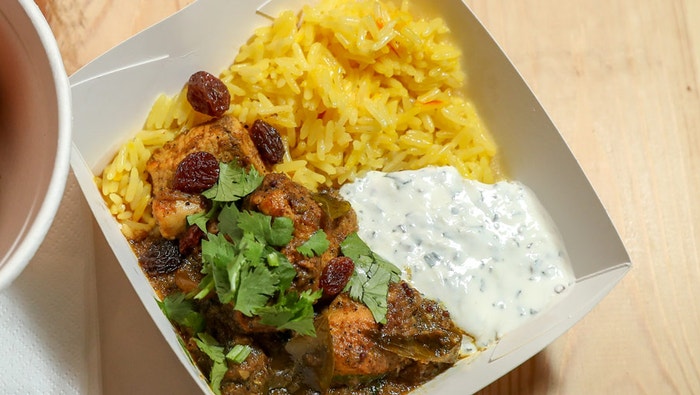 Steps
For the Chicken Curry, place chicken, turmeric and chilli in a bowl and mix until chicken is well coated. Cover and set aside in fridge.
Place coriander seeds, dried chilli, pepper, rice, fennel seeds, poppy seeds, and desiccated coconut in a small frypan. Set over medium heat and toast until fragrant, about 3 minutes. Transfer to a spice blender and process to a powder. Set aside.
Place ghee and oil in a heavy based saucepan and set over medium heat. Add mustard seeds and fry until they start to pop. Add onions and fry, stirring frequently, until soft. Add curry leaves, ginger and garlic and fry, stirring, until fragrant. Add tomatoes and cook, stirring, for a further 2 to 3 minutes. Add marinated chicken pieces, garam masala and reserved dry spice powder, stir through and cook for 3 minutes. Add sugar and 1 ½ cups water and stir to combine. Bring to a boil then reduce heat and allow to simmer until chicken is cooked through, about 20-25 minutes. Add coriander leaves, season with salt and remove from heat. Set aside, keeping warm, until serving.
For the Saffron Rice, place rice, ghee, saffron, salt, and 2 cups water in a medium saucepan and stir gently. Set over medium heat and bring to a boil. Reduce heat to low and simmer until rice is tender, about 10 minutes. Remove from heat, cover and allow to stand for 5 minutes or until ready to serve. Fluff rice with a fork before serving.
For the Raita, place yoghurt into a small bowl and set aside. Peel and grate cucumber, squeeze out excess moisture and add to the yoghurt. Finely chop mint leaves, add to the yoghurt and stir until well combined. Season with salt.
To serve, place Chicken Curry and Saffron Rice on serving plates. Garnish with coriander leaves and raisins and serve with Raita on the side.