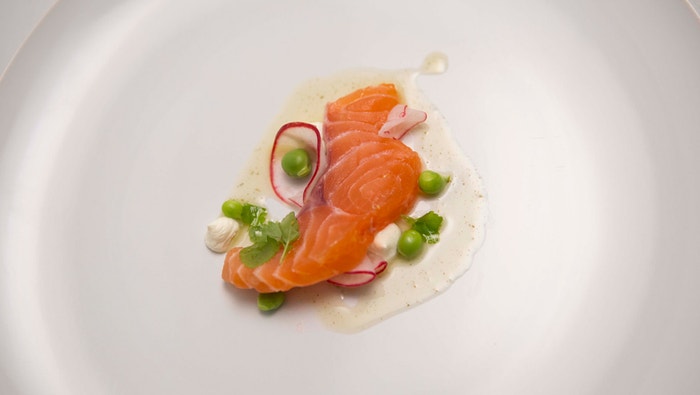 Steps
For the Lemon Cured Salmon, prepare the cure mix by combining brown sugar, salt, lemon zest and chopped lemon verbena in a small bowl. Mix well to combine.
Lay a large sheet of cling film onto a clean work surface and spread half of cure mix on to the cling film. Place salmon fillet onto cure then top with remaining cure to cover the fillet. Wrap the fillet and secure ends of cling film. Place on a tray and set aside in fridge for 2 hours to cure.
For the Smoked Crème Fraiche, place crème fraiche into a small bowl. Cover the bowl tightly with several layers of cling film. Prepare a smoking gun with applewood chips. Pierce the cling film and insert the nozzle of the smoking gun into the bowl. Allow the bowl to fill bowl with smoke. Remove the nozzle and seal cling film tightly. Set the bowl aside for 20 minutes to infuse. Once infused, transfer the crème fraiche to a piping bag and set aside in the fridge until needed.
To prepare the Vegetables, slice radishes using a mandolin and set aside in iced water until needed.
Remove peas from pods and place into a bowl with lemon juice and salt to taste. Toss to combine and set aside in fridge until needed.
For the Lemon Verbena Vinaigrette, blitz the lemon verbena and olive oil in a blender. Pour into a small saucepan over low heat and increase temperature slowly until mixture reaches 80C. Remove from heat, return to blender with 100ml lemon juice and blitz until emulsified. Strain through a fine sieve and transfer into a small jug.
To finish the Lemon Cured Salmon, remove salmon fillet from fridge and unwrap. Rinse fillet under cold water and pat dry. Slice into 20 very thin slices.
To serve, place 2 slices of salmon onto each serving plate. Pipe several dots of Smoked Crème Fraiche around the salmon. Add a small spoonful of the dressed peas. Remove radishes from the iced water and drain well. Arrange several slices of fresh radish on each plate. Spoon Lemon Verbena Vinaigrette over the salmon. Garnish with micro lemon balm leaves.