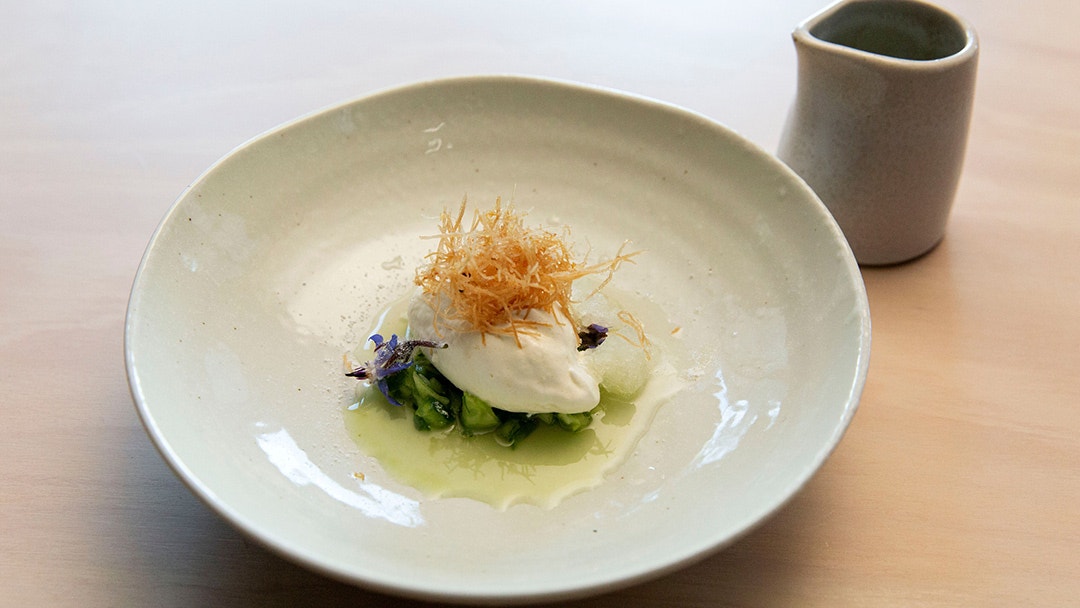 Steps
Pre-chill ice cream machine. Preheat the oil in a deep fryer to 180C.
For the Lemon Crème Fraiche Sorbet, place the sugar, glucose and 75ml water into a medium saucepan over medium heat. Stir to dissolve the sugar and simmer until syrup reaches 100C. Remove from the heat. Remove and reserve 100ml sugar syrup for the Lemon Granita and set aside.
Meanwhile, whisk the crème fraiche, salt and lemon juice and zest in a large bowl until smooth. Whisk in the remaining cooled sugar syrup.
Pour into the ice cream machine and churn according to manufacturer's instructions. Place into the freezer until required.
For the Lemon Granita, place the ingredients and 100ml water into a measuring jug and strain through a fine sieve into a deep baking dish. Place into the freezer until completely frozen. Scrape the mixture with a fork and return to the freezer. Repeat a further 2 times and store in the freezer until required for serving.
For the Crispy Kataifi, place the lemon zest and melted clarified butter together in a medium bowl.
Arrange the pastry in a single layer in a deep tray.
Pour the clarified butter on top of the pastry and set aside in a warm place for at least 30 minutes. Strain the butter and squeeze the pastry to remove excess butter. Place on a tray lined with paper towels.
Add the pastry to the hot oil, in batches, until golden and crispy, about 5 minutes. Remove from the oil and place onto a tray lined with paper towels until ready to serve.
For the Cucumber and Ouzo Tea, place ingredients into a medium bowl and whisk together until combined. Set aside 50ml for the Fresh Cucumber. Transfer the remainder to a jug and set aside in the fridge.
For the Lemon Sugar, place ingredients into a small bowl and set aside.
For the Fresh Cucumber, use a teaspoon to scrape out the seeds then discard. Chop the cucumber flesh in 3mm cubes, place into a bowl and cover with the Cucumber and Ouzo Tea until ready to serve.
To serve, place a tablespoon of the Fresh Cucumber into the centre of each plate. Top with a quenelle of Lemon Crème Fraiche Sorbet. Add a tablespoon of the Lemon Granita on the side and to a small pile of Crispy Kataifi on top of the sorbet. Garnish with borage flowers and a dusting of the Lemon Sugar.