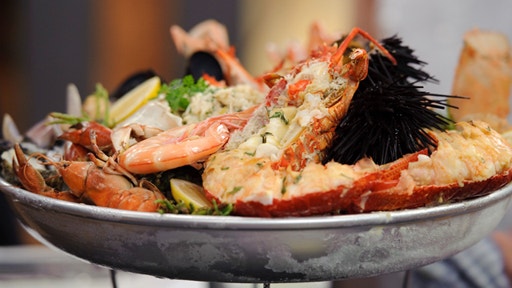 Ingredients
For the tarragon butter sauce
Steps
For the shellfish nage, place 3L water with all ingredients into a large saucepan, bring to the boil and simmer for 25 minutes. Bring it back to the boil and add the lobster. Cook for 14 minutes. After 9 minutes add the Moreton Bay Bug. At 12 minutes add the yabbies. Remove crustaceans and place in the refrigerator to cool.
For the mayonnaise, add egg yolks, mustard, vinegar, ½ teaspoon of salt and freshly ground black pepper to the bowl of a small food processor or whisk by hand. Mix well and gradually add oil until you have a thick emulsion. Set aside.
For the mud crab, bring a large saucepan of heavily salted water to the boil. Add crab and bring back to the boil. Cook for 15 minutes. Place in the refrigerator until cool enough to handle. Remove the legs and claws. Remove body section from the back shell. Clean shell thoroughly. Remove meat from the crab, checking for shell as you separate meat with your fingers. Transfer meat to a tray lined with paper towel to absorb any excess moisture. In a bowl, combine crab meat with 2 tablespoons of the mayonnaise, capers, chives and chervil. Return mixture to clean shell and garnish with chervil sprig.
For the mussels, pipis and clams, very lightly steam each mollusk separately, until just opened. Remove and chill in the refrigerator.
For the blue swimmer crab, bring a large saucepan of heavily salted water to the boil. Add crab, bring back to the boil and cook for up to 8 minutes. Remove and place in the refrigerator to cool. Remove the back shell, and discard the gills (dead man's fingers), remove the stomach sac, crack the large claws with a tap of a large knife and cut the body in half.
For the sea urchin, cut in half with a large knife through the mouth. Remove the white mouth. Rinse well, using your fingers to remove the black matter, leaving only the orange roe.
For the eschalot vinegar, combine red wine, red wine vinegar and eschalot in a small bowl. Set aside
For the tarragon butter sauce, add 250ml of the shellfish nage to a deep frying pan and boil rapidly until the liquid has reduced to about 50ml. Whisk in butter, a few pieces at a time. Check seasoning. Remove from heat and stir through the tarragon. Keep warm.
To serve, cut the lobster in half lengthways. Clean. Remove meat and slice into 3 pieces. Return meat, inverted in shell. Cut the Moreton Bay bug in half lengthways. Cover base of a large serving platter with a thick layer of shaved ice. Arrange the shellfish on top and garnish with samphire and lemon. Serve with eschalot vinegar, mayonnaise, finger bowl, lobster cracker and pick.