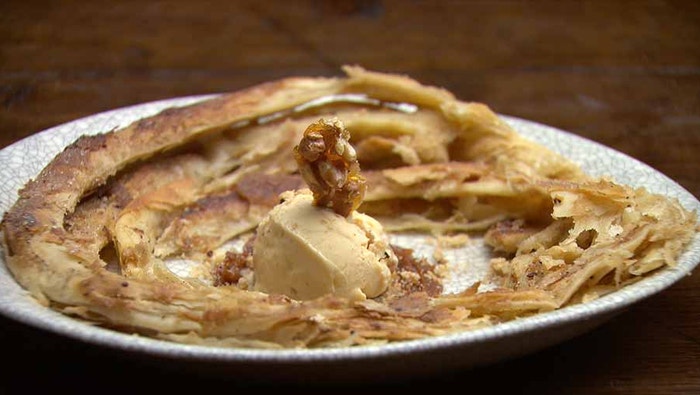 Steps
Preheat oven to 180C. Turn on ice cream machine to chill according to manufacturers instructions. Prepare an ice bath in a large wide bowl and set aside.
For the Candied Walnut, line a baking tray with baking paper. Spread walnuts onto the lined tray and toast until slightly browned, about 8-10 minutes. Remove from the oven and set aside.
Meanwhile, place the sugar into a small frypan and place over low heat. Swirl pan occasionally until sugar melts and turns to an amber brown colour. Remove from heat and pour over the toasted walnuts. Set aside to cool and set completely.
Once set, break into shards. Place shards into a food processor and process to break up the shards into smaller pieces. Remove and reserve 4 of the small shards for garnish. Continue to process the remaining shards to a coarse crumb. Set aside.
For the Baklava Spiced Ice Cream, combine egg yolks and sugar in a medium bowl and whisk together until light and pale.
Combine the milk, cream, honey and spices in a medium saucepan. Place over a medium heat and bring to the boil.
Once boiling, remove from heat and, while continuously whisking, pour hot cream mixture into egg mixture and whisk well until combined. Return mixture to the saucepan and place over a medium heat and cook, stirring continuously until mixture thickens and coats the back of a spoon.
Remove from heat and strain through a fine sieve into a clean medium sized bowl. Set bowl over the prepared ice bath to cool the mixture completely. Once cool, pour mixture into the pre-chilled ice cream machine and churn until almost set. Once almost set, add 80g of the Candied Walnut Crumb and continue to churn until set. Once set, place the ice cream into the freezer until needed.
For the Date and Pomegranate Purée, place all ingredients in a saucepan and stir to combine. Place saucepan over low heat and bring to a simmer. Continue to simmer until syrupy, about 4-5 minutes the remove from the heat. Use a stick blender to purée the mixture. Pass purée through a fine sieve into a clean bowl and set aside until needed.
For the Katoumari, place flour, 75ml water and a pinch of salt into the bowl of a stand mixer fitted with a dough hook attachment. Turn the mixer on and knead until a soft, pliable dough forms, about 5 minutes. Remove dough from the mixer and form into a ball. Wrap in cling film and place into the fridge to rest for 20 minutes.
Once rested, remove the dough from the fridge and unwrap. Lightly flour a clean work surface. Place dough onto the lightly floured work surface and using a rolling pin, roll out to a 40cm diameter circle. Brush the pastry circle with some of the melted butter.
Make a small hole in the middle of the pastry and roll dough outwards from the edge of the hole, over itself, to create a ring of layered dough.
Lightly brush dough ring with melted butter then cut the circle to form a single length of pastry. Cut length into 4 equal pieces.
Take one length and roll each end of the dough in on itself t create a spiral, working one end clockwise and other end working counter clockwise.
Fold the two spirals of dough down the middle, so that one spiral is on top of the other and roll out to a circle with a thickness of 3mm. Repeat with remaining dough to make 4 katoumari.
Place 20g of butter into a medium frypan and melt over medium heat. Add one of the katoumari and cook over medium heat until golden brown and crisp. Turn and cook on the other side until golden and crisp. Remove from pan and sprinkle with some sugar and spices and seal loosely in aluminium foil. Repeat process with remaining katoumari.
Using a 5cm cutter, cut the centres from katoumari and set centres aside in a small bowl. Cover katoumari loosely with aluminium foil to keep warm.
For the Filo Crumb, combine all ingredients in a small bowl and mix well to combine. Set aside.
To serve, place Katoumari onto serving plates and use two forks to tear up the pastry a little. Spoon some Date and Pomegranate Purée into the centre of the Koutimari then top with Baklava Ice Cream. Garnish with Filo Crumb and place a piece of the reserved Candied Walnut shards top of ice cream.