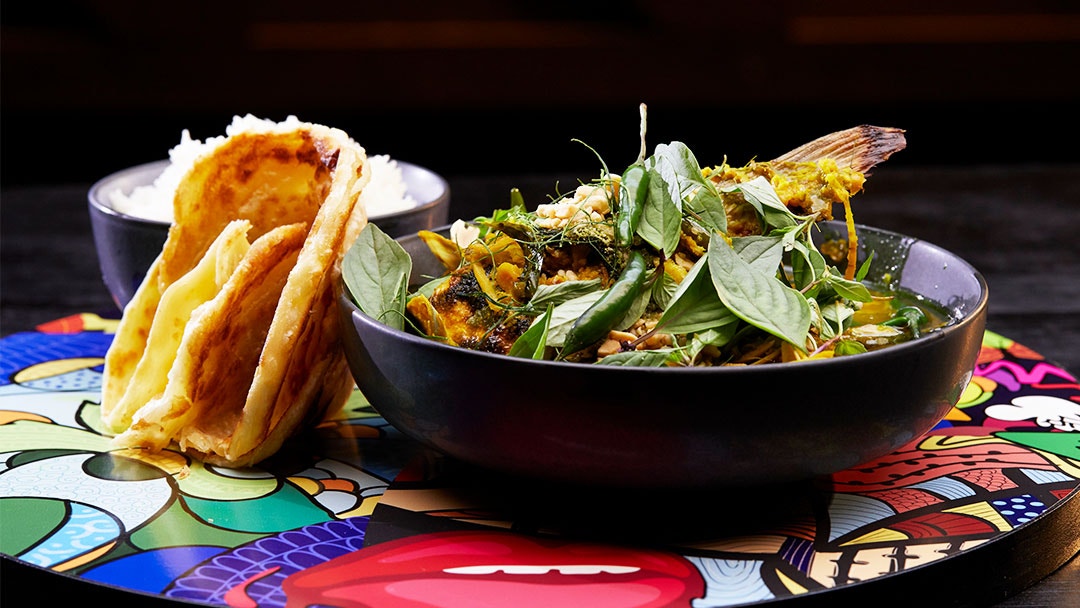 Ingredients
Chicken Stock (continued)
Pickled Turmeric (continued)
Rendered Pork Fat (continued)
Cured Kingfish (continued)
Chicken Stock (continued)
Steps
Preheat one oven to 160°C fan forced and another to 220°C fan forced.
Chicken Stock
Place two large deep fry-pans over high heat and warm half the oil in each.
Meanwhile, roughly chop each carcass into smaller portions.
Place chicken carcasses, wings and skin into the pan and cook until all sides are golden.
Meanwhile, roughly chop leeks, onions, ginger, spring onions and lemongrass and add to a pressure cooker. Add the coriander, fennel, peppercorns and 1.5L water, place lid on pressure cooker, set to 'Meat/Stew' program, high heat, 15 minutes.
Transfer the bones to 220°C oven and roast for 15 minutes or until deep golden in colour.
Roti
Melt 50g ghee in a small saucepan over medium heat and set aside. Grease an oven tray with extra ghee.
Sift flour, salt and sugar into a medium bowl. Make a well in the centre and gradually add water whilst mixing to a rough dough. Slowly add the melted ghee whilst mixing/kneading through.
Transfer dough to a greased bench and knead for 5 minutes, continuing to grease your hands and the bench as needed.
Shape dough into a log then cut into 70g portions. With greased hands, shape each portion into balls. Grease balls with extra ghee if needed, place on prepared tray, cover with plastic wrap and set aside at room temperature to rest for 45-60 minutes.
Rendered Pork Fat
Mince or finely dice the fat.
In a large deep heavy-based frypan, combine the fat and water. Place pan over low heat for 15-20 minutes or until water evaporates and fat starts to caramelise.
Chicken Stock (continued)
Meanwhile, transfer both pans of chicken bones to the stove top and place over high heat. Use water to deglaze each pan, scraping any pieces from the base of the pan.
Transfer contents of each pan to the pressure cooker, set on 'meat/stew' program, high temperature for 30 minutes.
Pickled Turmeric
Peel garlic cloves and turmeric. Place garlic and turmeric in a small food processor and process to a smooth paste.
In a small frypan, warm the oil over low heat. Add the garlic, turmeric and salt and sweat for 10 minutes or until soft.
Cured Kingfish
Place kingfish wings on a tray.
Crush peppercorns in a mortar and pestle to a coarse powder.
In a small bowl, combine sugar, salt and peppercorns and mix well. Generously press cure mixture over all sides of the wings.
Place kingfish in fridge 25-30 minutes.
Roasted Peanuts
Place peanuts on an oven tray and toast in 160°C oven for 20 minutes or until golden. Remove tray from the oven and set aside at room temperature.
Pandan Rice
Place rice in a large fine sieve and rinse until water runs clear.
In a rice cooker, combine rice and water. Tie each pandan leaf in a knot and add to the rice cooker. Cook on program 'Rice/Grains', low heat, 12 minutes or until water has been absorbed and rice is fluffy. Remove the pandan and discard.
Pickled Turmeric (continued)
Add vinegar and sugar to the pan and boil over high heat for 10-15 minutes or until relish consistency. Remove pan from the heat and set aside at room temperature.
Jungle Curry Paste
Peel the turmeric, galangal, shallots and garlic. Remove the stem from each chilli. Deseed the long green chilli.
Roughly chop all ingredients, place in a Thermomix and process to a smooth paste.
Rendered Pork Fat (continued)
Peel the garlic and roughly chop garlic, ginger and pandan.
When fat has caramelised, add aromats and cook for 3-4 minutes, ensuring aromats do not burn. Remove pan from the heat and pass through a fine sieve into a measuring jug. Set aside at room temperature.
Cured Kingfish (continued)
Briefly rinse the curing mixture off kingfish and pat dry with paper towel. Place onto a tray and set aside at room temperature.
Chicken Stock (continued)
Strain the stock through a chinois into a large saucepan and set aside.
Roti (continued)
Use the palm of your hand to flatten each ball to a thick disc. Holding an edge, lift it off the bench and with the flick of a wrist, slap it back down to stretch out. Repeat stretching and pulling until dough is just bigger than A4 in size, continuing to grease as needed. Alternatively, used greased hands or a small rolling pin to stretch out.
Fold each side into the centre to give a rough rectangle shape then roll into a log. Gently pull and stretch the log until 40-50cm long.
Shape the log into a coil, tucking the end underneath. Use the palm of your hand to flatten. Use a lightly greased rolling pin to gently roll to 20cm diameter round.
Warm a little ghee in a large frypan over medium heat. One at a time, cook each Roti for 2-3 minutes each side or until golden and crispy.
Jungle Curry
Preheat binchotan coal in a hibachi and place a wire rack over the low flame. Oil the kingfish wings lightly and place onto the rack. Cook for 7-8 minutes, turning to cook both sides evenly.
Meanwhile, shred the krachai into julienne-sized pieces and set aside.
Use a mortar and pestle to crush half the scud chillies to a chunky paste.
Place a heavy-based frypan over high heat and add 3-4 tablespoons of Pork Fat. Add half the krachai, the crushed scud chillies and Pickled Turmeric and cook for 2 minutes to infuse the fat, stirring regularly.
Meanwhile, halve the corn lengthways. Cut each apple eggplant into 6 wedges. Finely shred the kaffir lime leaves.
Add the curry paste and cook for 2 minutes, stirring regularly. Add 1 tablespoon of tamarind and cook for 1 minute, stirring regularly. Add the stock, stir and bring to a simmer.
Meanwhile, remove stems from remaining chillies and use the side of your knife to bruise the chillies.
In a mortar and pestle, coarsely crush the peanuts. Add 1/3 cup crushed peanuts to the curry and stir through. Reserve remaining crushed peanuts to garnish.
Season the curry with sugar, fish sauce and 1 tablespoon tamarind and stir through. Season with lime juice if needed.
Transfer the kingfish wings from the hibachi into the curry along with corn, apple eggplants, pea eggplants, pipppies and half the kaffir lime leaves. Simmer for 3-5 minutes, ensuring the fish is warmed through but the vegetables are still crisp. Check for seasoning and balance with additional sugar, fish sauce or tamarind paste as needed. The curry should be fiery, earthy, salty and have a touch of sourness.
Meanwhile, pick the Thai basil and betel leaves.
Remove pan from the heat. Add the remaining krachai, the betel leaves and half the Thai basil and stir through the curry.
Transfer curry to a serving dish. Garnish with remaining Thai basil, a few extra scud chillies and crushed peanuts.
Serve curry alongside a small bowl of Pandan Rice and Roti.