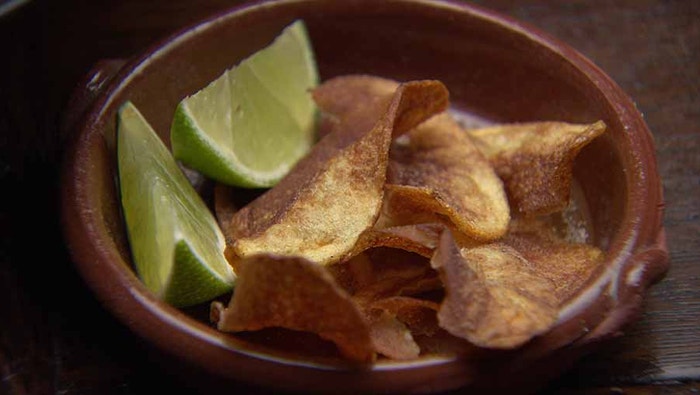 Steps
For the Curry, place oil, garlic, shallot, chilli and lemongrass into a medium saucepan over medium heat and cook until fragrant. Add soy sauce, fish sauce, bay leaf, kaffir lime leaf and vegetable stock and continue to cook for a further 10 minutes to reduce.
Transfer mixture to a food processor and process to a smooth paste. Return paste to the saucepan and add the potatoes. Place saucepan back over medium heat and simmer until tender, about 12-15 minutes.
Add sugar snap peas, mushroom and water chestnuts and simmer until vegetables are tender and broth has reduced by half, about 8-10 minutes.
Add broccolini, coconut cream, a handful of coriander leaves, a squeeze of lime juice and caster sugar. Adjust seasoning with lime juice or caster sugar if desired. Stir in cornflour mixture until completely combined and mixture has thickened. Remove from the heat, season to taste and set aside in the saucepan, keeping warm.
For the Crispy Potato Chips, heat grapeseed oil in a medium saucepan to 180C.
Meanwhile, cut potatoes very thinly using a sharp knife. Rinse well under water and use paper towel to pat dry. When the oil has come to temperature, in batches, add potato slices and cook, until golden brown then remove from the oil and drain on paper towel. Season with salt and pepper.
To serve, remove and discard the bay leaf, kaffir lime leaf and lemongrass from the Curry. Pour Curry into a deep serving bowl and top with a few fresh coriander leaves. Arrange Crispy Potato Chips on top of the Curry. Finish with a squeeze of lime juice and serve lime wedges on the side.