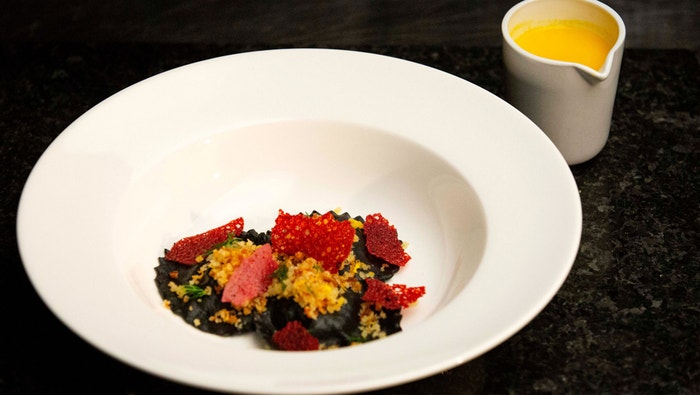 Steps
Bring a large saucepan of salted water to the boil.
For the Prawn and Fennel Mousse, heat the oil in a medium sized frypan over medium heat. Add fennel and leek and cook for 6-7 minutes or until soft, stirring occasionally. Remove from the heat and transfer to the bowl of a food processor.
Place butter into a small non stick saucepan over medium heat. Once butter has melted, reduce heat to low and add prawns. Cook until opaque, about 4-5 minutes.
Remove prawns from the pan with a slotted spoon and add to the food processor along with fennel and leek, and season with salt and pepper. Process until a rough puree forms. Add cream and process until a smooth puree forms. Transfer mixture to a bowl and set aside in the fridge.
For the Squid Ink Pasta, place flour into a medium mixing bowl and make a well in the centre. Add eggs, squid ink, extra virgin olive oil and a pinch of salt. Using a fork, carefully whisk wet ingredients while gradually drawing the flour into the centre and stirring it into the egg mixture. Use your hands to bring together in a dough.
Turn dough out onto a lightly floured surface and knead until smooth. Cover dough with a clean, dry tea towel and set aside to rest for 10 minutes.
To assemble the ravioli, divide dough into 4 portions. Roll one portion through the pasta machine to the thinnest setting and lay sheet onto a floured bench. Repeat with remaining portions. Place 12 x teaspoon amounts of Prawn and Fennel Mousse along two of the pasta sheets, 5cm apart. Roll out another portion of dough and carefully place over the top of filling, pressing down to remove air and seal the edges. Cut around the filling using a 6cm round ravioli cutter to yield 24 ravioli. Set aside on a floured tray.
For the Garlic Crumb, place sourdough and garlic into the clean bowl of a food processor and process to a coarse crumb.
Heat oil in a small non stick fry pan on low medium heat. Add crumbs to the fry pan and cook, stirring, for 7-8 minutes or until golden and crunchy. Remove from the heat, cool slightly then stir in the orange zest. Set aside until required.
For the Beetroot Coral Tuile, combine all ingredients in a small mixing bowl and whisk well to combine and mixture is smooth. Pour mixture into a squeeze bottle and shake well.
Preheat a small non stick frypan over low medium heat. Pour half of the mixture into the pan in a thin layer and cook until liquid has evaporated and a lacy tuile remains. Transfer the tuile to a plate lined with paper towel. Repeat with the remaining mixture.
Once cool, break tuiles into 3cm pieces and set aside.
To prepare the Saffron Butter Sauce, place the white wine and saffron into a small saucepan over medium heat. Cook for 2-3 minutes or until wine has reduced by half. Add butter one cube at a time, whisking between additions, until sauce has emulsified. Add lemon juice and salt, to taste, and stir to combine.
Remove pan from the heat, pour sauce through a sieve into a serving jug and set aside, keeping warm.
Carefully place ravioli into boiling water, in batches, and cook for 4 minutes. Drain well and divide between serving bowls. Top ravioli with a little Garlic Crumb and arrange Beetroot Coral Tuile pieces between ravioli. Garnish with fresh dill and season with salt and pepper. Serve with Saffron Butter Sauce on the side.