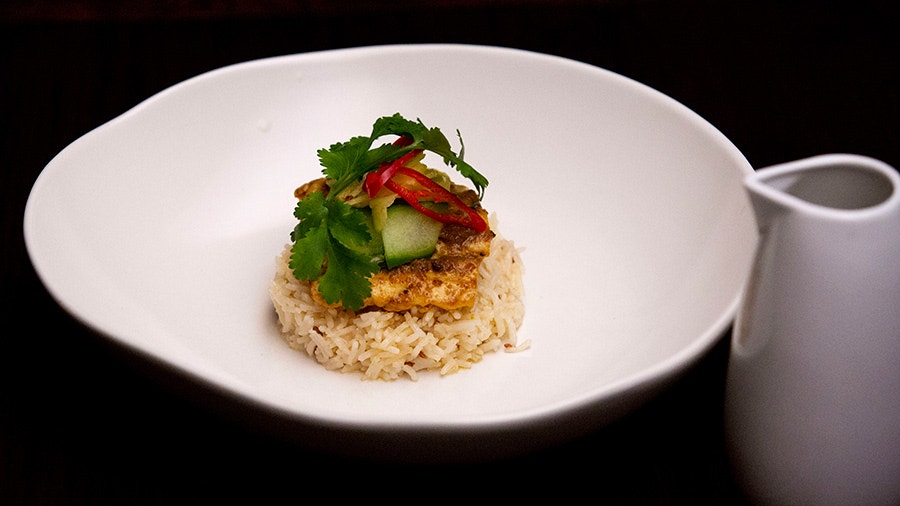 Ingredients
Cucumber and Pineapple Archar
Steps
Fish Curry
Dry roast the coriander, cumin, cardamom and cinnamon in a small frypan until fragrant and lightly brown. Remove from heat and place into a food processor laong with shallots, garlic, ginger and chilli to make a smooth paste.
In a large saucepan, add coconut oil and when hot curry leaves. Cook until crispy then add spice paste and cook until fragrant, about 1-2 minutes.
Add ground turmeric and chilli powder and cook for 6 minutes.
Add coconut milk and 1 ½ cups water and reduce the heat to low.
Once the curry comes to boil, add tamarind, sugar and salt.
Add the fish to sauce and simmer gently, basting fish with sauce and turning halfway, until fish is just cooked through, about 6-8 minutes. Remove the fish from sauce and place on a tray.
Cumin Rice
Mix ingredients in a large non-stick saucepan along with 2 cups water.
Bring the rice to a boil and reduce the heat and simmer, covered, for 10 minutes.
Remove the rice from the heat and rest for 5 minutes.
For the Cucumber and Pineapple Archar, place ingredients into a large bowl and set aside to pickle for 20 minutes.
Using a 6 or 7 cm round ring cutter, mould rounds of Cumin Rice into the centre of each plate. Top with a portion of fish and garnish with Cucumber and Pineapple Archar and coriander leaves.
Serve the curry sauce in a serving jug on the side.