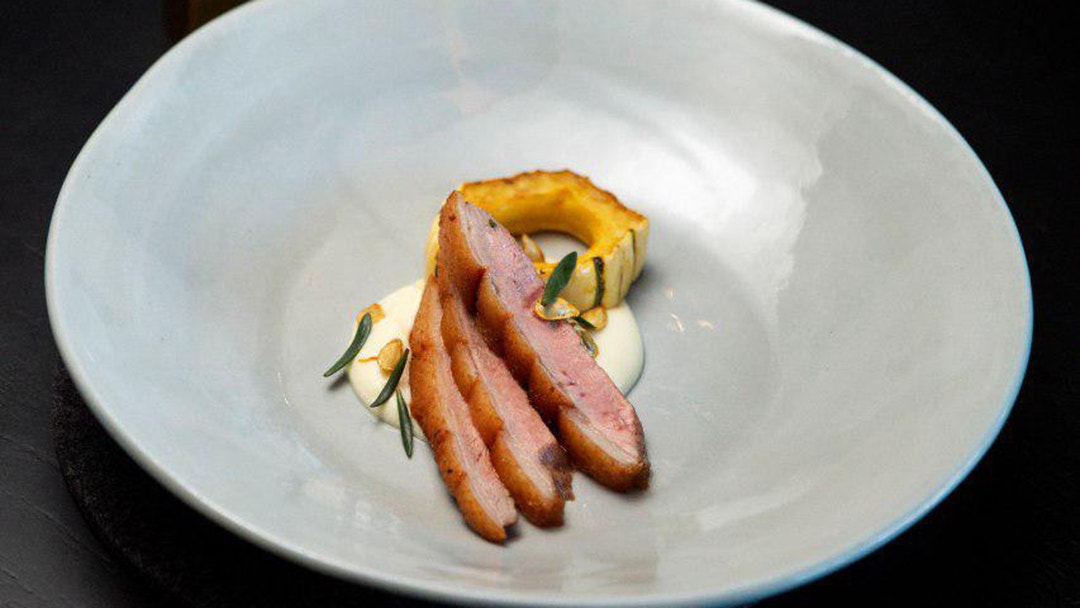 Steps
Preheat oven to 180C.
For the Duck, Red Wine and Lemon Myrtle Jus, place the duck bones, shallots, garlic and lemon myrtle into a large saucepan and place over medium high heat. Cook, stirring regularly, until browned, about 8 minutes.
Reduce the heat to medium. Add the wine and simmer until reduced and thickened.
Add the stock and 500ml water, bring to the boil then simmer until liquid has reduced by half. Pass through a large fine sieve into a small saucepan and simmer until thickened and reduce to 150ml.
Remove from the heat and add the butter, a piece at a time and whisk until fully dissolved and liquid is glossy. Stir in the vinegar and salt, to taste. Set aside. Reheat gently to serve.
For the Roasted Pumpkin, scoop out the seeds from the slices of pumpkin with a tablespoon in a circular motion to form rings.
Place onto a lined baking tray and drizzle with oil. Using hands, rub the oil over the pumpkin, season with salt and bake in the oven until slightly caramelised and cooked through, about 25 – 30 minutes. Remove from the oven and set aside.
For the Cauliflower Puree, cut the cauliflower into 3cm pieces and place into a medium saucepan over low heat.
Add the milk, cream, leek and garlic. Bring to a simmer and cook until the cauliflower is tender, about 20 minutes. Using a slotted spoon, transfer the cauliflower to a food processor, reserving the cooking liquid.
Add the butter and a little cooking liquid to the cauliflower and process to a smooth soft puree.
Pass through a fine sieve, season to taste and set aside, covered, to keep warm.
For the Duck Breasts, trim the breasts of sinew.
Lightly score the skin diagonally and season with salt.
Place into a cold frying pan, skin side down and cook over low heat until skin is browned and fat has rendered, about 5 minutes.
Briefly turn the breasts over to seal then drain excess oil from the pan.
Turn the duck breasts over again, cook in the oven, skin side down until the internal temperature reaches 52C, about 12 minutes, or longer until cooked to your liking.
Remove from the pan and set aside on a clean chopping board to rest until temperature reaches 57C.
Slice each breast lengthways into 4 slices to serve.
For the Pumpkin Seeds, scoop seeds from the centre of pumpkin and remove all flesh from the seeds.
Place a small pan over low heat and add the butter and oil. Add the seeds and salt, stirring until seeds are golden brown and crispy. Remove from the pan and set aide on paper towel.
To serve, spoon the Cauliflower Puree into the centre of each plate. Add a ring of Roast Pumpkin and slices of duck. Sprinkle with Toasted Pumpkin Seeds and garnish with purslane. Serve with the Duck, Red Wine and Lemon Myrtle Jus on the side.