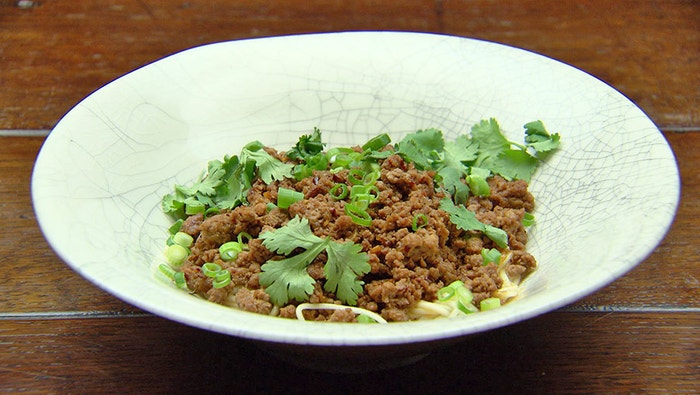 Steps
For the Master Stock, place vegetable oil in a large saucepan set over high heat. Add the beef rib, eshallots and ginger and cook until caramelised, about 6-7 minutes. Add garlic, star anise, cinnamon, cardamon pods and dried chilli. Cook until aromatic, about 1 minute. Add 500ml water, Shaoxing wine, soy sauce and salt. Bring to a boil then reduce heat to medium and simmer until stock is reduced by half, about 20-25 minutes. Remove from heat, strain through a fine mesh sieve and set aside until needed.
For the Wheat Noodles, place the flour and salt in a medium bowl. Gradually add 1 cup water, mixing with a fork until the dough comes together, forming a ball. Lightly flour a clean bench and knead dough until the dough is smooth and springy, about 10 minutes. Cover with plastic wrap and rest in fridge for at least 30 minutes.
Divide the rested dough in half, covering one of the halves with plastic wrap to prevent the dough from drying out. Lightly flour a clean work surface then flatten out the other dough half. Using a pasta roller, pass dough through from thickest to thinnest settings, dusting well with cornflour. Using a spaghetti cutter, cut the dough into noodles. Dust with cornflour. Repeat with remaining portion of dough and set aside until serving.
For the Sichuan Meat Sauce, set a wok over high heat. Once the wok begins to smoke, add the vegetable oil and meat and cook, stirring continuously, until well caramelised.
Add the Sichuan peppercorns, ginger, garlic, chilli oil and Shaoxing wine, stirring until well combined.
Add the soy sauce, black vinegar, master stock, salt and sugar to the wok and stir until combined. Bring to a boil, then reduce heat to medium-low and simmer for a couple of minutes. Adjust seasoning with salt and sugar if necessary. Set aside, keeping warm, until serving.
To serve, bring a large saucepan of salted water to a boil. Add noodles and cook until al dente, about 30-60 seconds. Drain and divide noodles between 4 serving bowls. Top with Sichuan Meat Sauce and garnish with spring onions and coriander leaves.