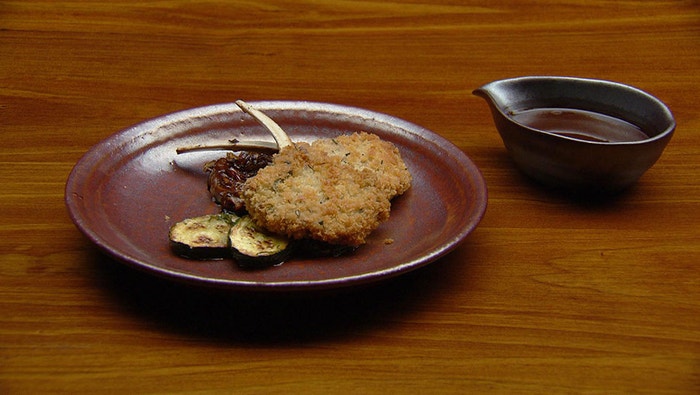 Steps
For the Caramelised Onions, place olive oil in a medium non-stick fry pan and set over medium high heat. Add onions and fry until almost translucent. Add balsamic vinegar and brown sugar and continue to cook, stirring, until mixture becomes thick and glossy. Remove from heat and set aside, covered, to keep warm.
For the Red Wine Jus, place 1 tablespoon olive oil in a large saute pan and set over high heat. Add lamb bones and cook until browned. Add remaining tablespoon oil and vegetables and cook until vegetables are golden. Add wine to deglaze pan and simmer until wine has reduced by half. Add the stock, rosemary and salt, stirring to combine. Simmer until liquid has reduced by half, again, about another 15 minutes. Remove from heat.
Strain through a fine sieve into a small saucepan and set over low heat. Continue to simmer until thickened. Add butter, one piece at a time, whisking until smooth. Remove from heat, season with salt then transfer to a serving jug. Set aside, keeping warm, until serving.
For the Crumbed Lamb Cutlets, heat oil in a medium sized non-stick frypan over high heat to 170C.
Meanwhile, place plain flour in a medium bowl and season with salt and pepper.
Crack eggs into a medium bowl, add 3 tablespoons of water and whisk with a fork until combined.
Cut fresh bread into chunks and place into the bowl of a food processor. Add rosemary leaves, salt and pepper and process to a fine crumb. Transfer breadcrumbs to a third medium bowl.
Using a meat mallet, flatten lamb cutlets to 1cm thickness. Add cutlets to bowl of seasoned flour and toss to coat lightly. Dip floured cutlets in beaten egg to coat, allowing excess to drain. Finally, place cutlets into breadcrumbs and press crumbs onto the meat firmly on both sides until well coated.
Fry the crumbed cutlets in the oil until golden, about 3-4 minutes on each side. Remove cutlets from oil and set aside to drain on paper towel until serving.
For the Zucchini with Mint, heat butter in a large frypan over low to medium heat.
Slice zucchini on an angle into 1cm thick slices and add to hot frypan. Sprinkle zucchini with mint leaves and salt and fry until tender and golden brown on both sides. Remove from heat and set aside.
To serve, place Caramelised Onions and Zucchini with Mint onto plates. Top with Crumbed Lamb Cutlets and serve with warm Red Wine Jus on the side.