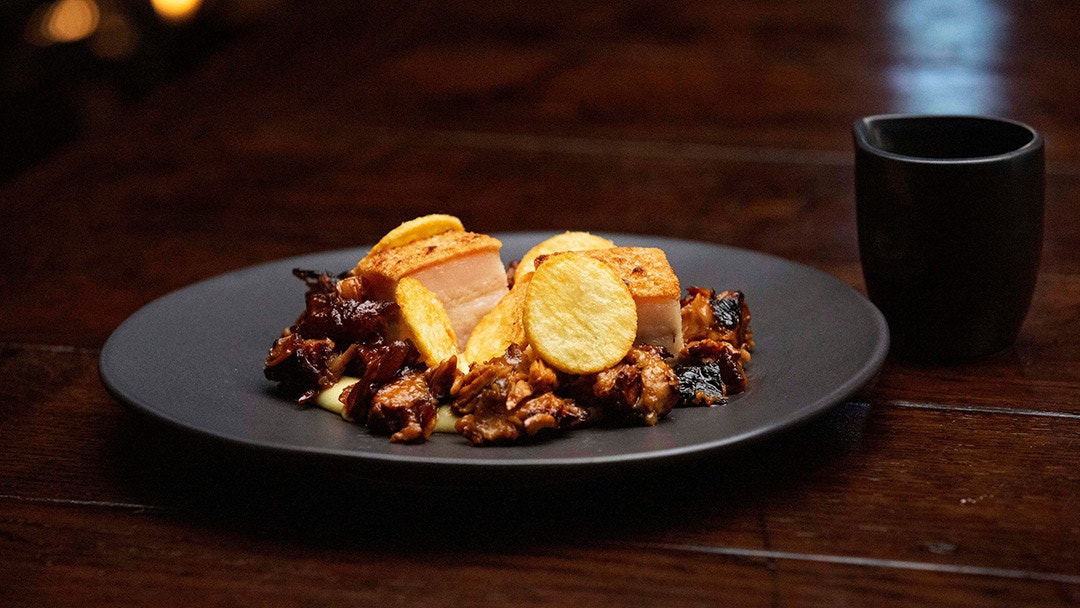 Steps
For the Crispy Pork Belly, preheat oven to 250C.
Score the skin of the pork belly. Rub with oil and salt into the skin.
Place on a baking tray and cook in oven for 20 minutes. Reduce oven temperature to 200C. Continue cooking until pork is tender and skin is crispy, about 40-45 minutes.
Finish under the grill to ensure skin has crackled, taking care not to burn. Remove from the oven and set aside to rest. Cut each portion in half to serve.
For the Pork Ribs, prepare a BBQ or hibachi grill. Heat a pressure cooker on browning setting. Season the ribs with salt and pepper and place into the pressure cooker. Cook until browned then add remaining ingredients and enough water to cover the ribs.
Seal and cook on high pressure for 45 minutes.
Release pressure; transfer the ribs to a plate and reserve cooking liquid.
For the Jam and Honey Glaze, place tomatoes into a roasting tray. Drizzle with olive oil and season with salt and pepper. Roast in oven until soft, about 10 minutes. Remove from the oven and set aside.
Place pan over medium heat and add 1 tablespoon oil. Add the pork skin and fry until caramelised and fat has begun to render.
Add the roasted tomatoes and remaining ingredients and simmer until thickened slightly.
Pass through a fine sieve into a small saucepan and simmer until reduced to a glaze consistency. Remove from the heat and set aside.
To finish the ribs, cook the ribs on the BBQ or hibachi grill for 1-2 minutes on each side, brushing with the Honey and Jam Glaze. Remove the meat from bones and shred. Set aside, covered loosely with foil.
For the Potato Mash, bring a small saucepan of salted water to the boil.
Chop potatoes into 2cm cubes and cook in boiling water until soft.
Drain potatoes then pass through a potato ricer into a saucepan.
Meanwhile, place cream and butter into a small saucepan over medium heat until butter has melted and the mixture is hot.
Add to the potato and stir until smooth. Pass through a sieve and season to taste. Set aside.
For the Potato Chips, heat oil in a small saucepan to 140C.
Slice the potatoes 3mm thick using a mandolin. Trim into neat circles with a round cutter. Dry the potato slices with paper towel then cook in the hot oil until just tender, about 4 minutes. Remove from the oil and place onto paper towel.
Increase the oil temperature to 180C. Return the potato slices to the oil and cook until crispy and lightly golden. Remove from the oil and set aside on paper towel. Season with salt.
To serve, spoon Potato Mash into the centre of each plate. Top with Crispy Pork Belly and shredded Pork Ribs. Finish with Potato Crisps and serve with the remaining Jam and Honey Glaze on the side.