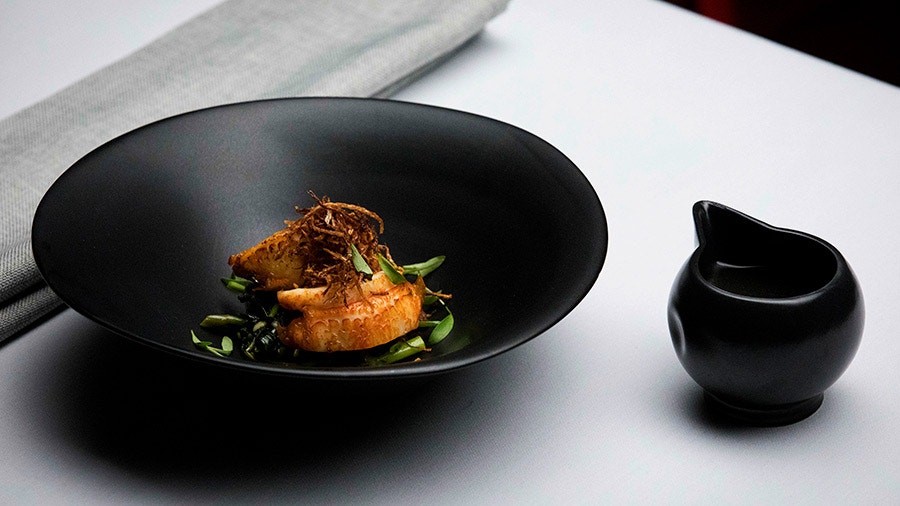 Ingredients
Crispy Lup Cheong Sausage
Steps
For the Ginger Broth, place chicken wings, ginger, garlic, spring onions and star anise in a pressure cooker. Cover with 1L water, seal and cook on high pressure for 1 hour.
Release pressure, then pass broth through a fine sieve lined with muslin cloth into a medium saucepan. Adjust seasoning with shaoxing wine, yellow rock sugar, white soy sauce and salt, to taste. Cover and set aside until needed.
For the Crispy Fried Ginger, half fill a small saucepan with grape seed oil and heat to 180C.
Add ginger and fry until crispy. Remove ginger from oil with a wire spider and drain on paper towel. Set aside until ready to serve.
For the Stir Fired Water Spinach, heat a little oil in large wok over high heat until starting to smoke. Add all ingredients and stir-fry until spinach is just wilted. Season with salt to taste and remove from wok. Set aside, keeping warm, until ready to serve.
For the Crispy Lup Cheong Sausage, place sausages in a food processor and blitz to form a coarse crumb.
Heat a small frying pan over medium-high heat, add sausage and cook until crispy and golden. Drain on paper towel and set aside until ready to serve.
For the Crayfish, bring a tall saucepan of salted water to the boil and prepare a large ice bath.
Insert a long metal skewer through the tail section of each crayfish to ensure they stay straight when cooking. Lower the crayfish into the water and return to the boil, cooking for 4-5 minutes. Remove crayfish from the water and place immediately into ice bath to stop the cooking process. Once cool, remove the crayfish from the water bath and pat dry with paper towel. Remove the skewers and use a sharp knife to remove the tail section from the body. Use scissors to arefully cut either side of the tail and release tail meat in one piece. Remove digestive tract and set aside, keeping warm, until needed.
Heat remaining ingredients in a small frypan then add crayfish tails. Cook gently, basting continuously with the melted butter, until meat is just opaque. Remove crayfish from pan and slice each into 6 slices.
To serve, reheat Ginger Broth until simmering. Place 2 tablespoon of Stir Fried Water Spinach in the base of each serving bowl. Top each with 1 tablespoon Crispy Lup Cheong Sausage and two rounds of Crayfish. Ladle Ginger Broth into each bowl then top with Crispy Ginger Floss and micro coriander.