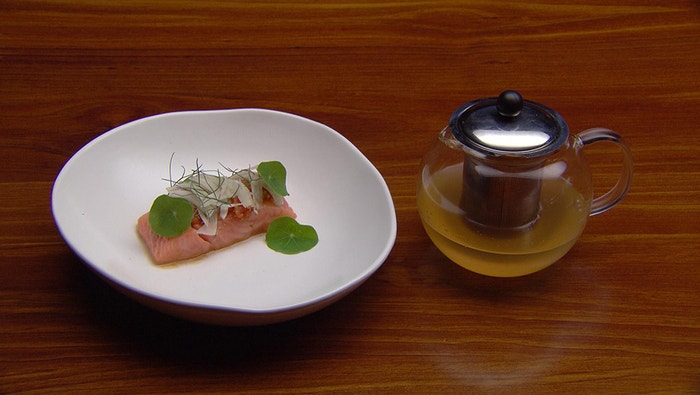 Steps
Preheat oven to 180C. Preheat sous vide machine to 40C.
For the Tomato Tea, place a muslin lined sieve over a large bowl and set over a bowl of ice. Place all ingredients in a large food processor and process until pureed. Transfer into sieve and set aside to strain, squeezing muslin gently, occasionally, to yield 1 cup of liquid. Skim the surface, season with salt, and set aside until serving.
For the Confit Tomatoes, place ingredients into a small roasting tray and cover with aluminium foil. Place in oven to cook until the tomatoes are soft but still holding their shape, about 15-20 minutes. Remove from oven and set aside to cool.
Transfer cooled tomatoes to a small bowl. Crush tomatoes with the back of a fork and remove and discard the skin. Strain through a small sieve. Transfer pulp to a small bowl and set aside until serving.
For the Parsley Oil, bring a small saucepan of water to the boil and prepare an ice bath in a medium bowl.
Blanch parsley leaves in boiling water, until slightly wilted, about 10 seconds. Drain and immediately plunge into iced cold water. Drain wel, place into a clean tea towel and gently squeeze to remove excess water.
Place the dried parsley leaves, olive oil and salt into a small food processor and process until smooth and emulsified. Transfer parsley oil to a muslin lined sieve sitting over a small bowl. Set aside, for oil to strain through, until serving.
For the Confit Salmon, place salmon into two vacuum seal bags, making sure that the salmon fillets do not touch. Add ¼ cup oil, 2 fennel fronds and a pinch of salt to each bag. Expel and seal the air from the bag then place into sous vide machine. Cook until salmon fillets begin to fall apart, about 15-20 minutes. Remove from water, and remove the salmon from the bags, onto a plate. Set aside until serving.
To serve, place a portion of Confit Salmon in each serving bowl. Top with the Confit Tomato pulp, finely sliced fennel, fennel fronds and nasturtium leaves. Pour ¼ cup of the Tomato Tea into the bowl and drizzle with a spoonful of Parsley Oil.