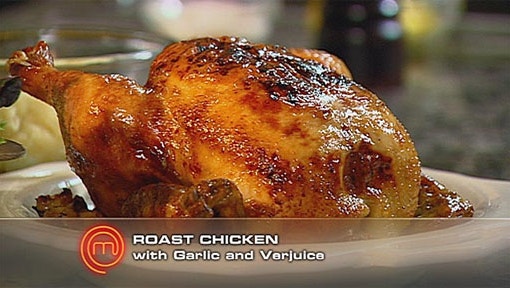 Steps
Preheat a fan forced oven to 200°C. Blanch the unpeeled garlic in boiling water for four minutes, then drain and set aside.
Cut the lemon in half and squeeze the juice into the cavity of the chicken, then add the rosemary.
Mix olive oil with a good pinch of sea salt and pepper and massage into the skin of the bird. Cover the breast (only) with foil and sit the chook on a trivet in a shallow baking dish about 5cm deep.
Transfer to the middle shelf of the oven and cook for 40 minutes.
Remove foil from breast and use to cover the legs. Pour verjuice over the chicken, place the blanched garlic to the baking dish and add the water to the base of the dish to avoid burning.
Cook for a further 20 to 30 minutes. Remove the chook and place breast side down on the trivet to rest for 40 minutes, covered loosely with foil.
To make the jus, pour all the pan juices from the baking dish into a small saucepan and add 1 cup of warm chicken stock, pour into a narrow serving jug, then refrigerate this while the chicken is resting. Just before serving, scoop away the fat that has risen to the top, warm the remaining jus. Carve the chook, then pour over the jus and serve accompanied by the roasted garlic, parsnip and pear mash and bitter green salad.