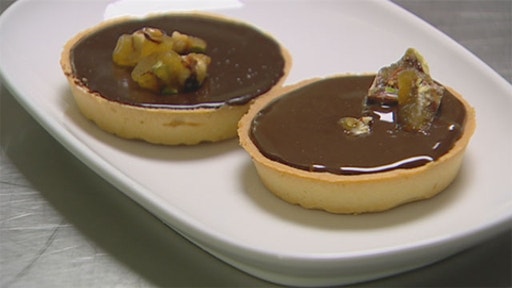 Steps
Sweet Dough
Cream the butter, sugar and salt in a bowl. Add vanilla bean seeds and beat until fluffy. Add egg and mix to combine. Add almond meal and flour and mix until mixture forms a dough.
Place between two sheets of cling wrap, flatten and refrigerate for 2 hours to rest.
Flour bench, lay pastry on top and dust again with flour. Roll to a desired thickness and prick well with a fork. Cut rounds with a 12cm cookie cutter and lay into 10cm diameter tartlet cases. Gently press into tins to fit and roll over tartlets with a rolling pin to trim edges. Refrigerate for 1 hour.
Bake at 160°C for approximately 20-25 minutes or until golden.
Chocolate Salted Caramel Tart and Caramelised Peanuts
Place sugar and glucose in a saucepan over a medium heat and cook, agitating mixture until sugar is dissolved. Simmer until sugars become a light brown caramel.
Deglaze with cream, add salt and remove from heat. Allow to cool slightly and whisk in butter until smooth and glossy
Half fill tartlet cases with salted caramel and top with 1-2 teaspoons peanuts. Chill to set.
For ganache, pour cream into a saucepan and almost bring to the boil. Add chocolate and stir until smooth. Add butter and mix until well combined. Fill chilled tartlets with ganache and refrigerate for 20-30 minutes to set.
Decorate with pieces of peanut nougatine.