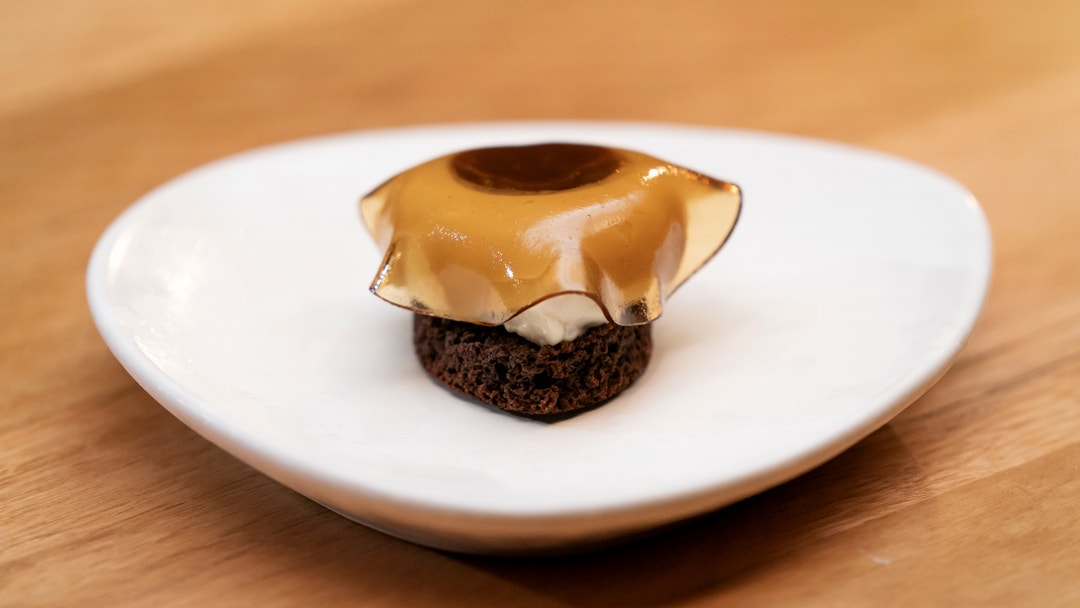 Steps
Prechill ice cream machine. Preheat oven to 160C.
For the Madeira Gelato, place milk, sugar, cream and Base 50 into a blender and process until smooth. Transfer to a saucepan and stir over medium heat until mixture reaches 85C. Remove from the heat, add Madeira and blend with a stick blender.
Strain mixture through a fine sieve and set aside to cool over an ice bath.
Once cool, pour into ice cream machine and churn according to manufacturer's instructions. Set aside in the freezer.
For the Chocolate Cake, grease and line a 30cm x 15cm baking tin and set aside.
Combine dry ingredients in a bowl and set aside.
Place butter and chocolate into a glass bowl. Cook in the microwave in 30 second bursts, stirring in between until just melted. Add eggs to chocolate mixture and beat with a spatula to combine. Fold in dry ingredients.
Pour mixture into tray and bake for 20-24 minutes. Remove from oven and allow to cool. Cut into elliptical shapes 6cm long and 4cm wide.
For the Salted Caramel, place sugar into a frypan and cook over low heat until melted and deep amber in colour. Whisk in butter then cream and add salt. Remove from the heat and set aside to cool.
For the Madeira Veil, place madeira, water and sugar into a saucepan and whisk in agar and iota. Bring mixture to the boil, whisking continuously. Once boiled, pour a thin layer onto a large baking tray and tilt the tray until a thin sheet is formed. Set aside to cool and set then cut into 7cm rounds.
To serve, place Chocolate Cake into the cente of each serving plate. Top with a quenelle of Madeira Gelato. Create a well in the gelato and fill with Salted Caramel. Cover with a round of Madeira Veil.