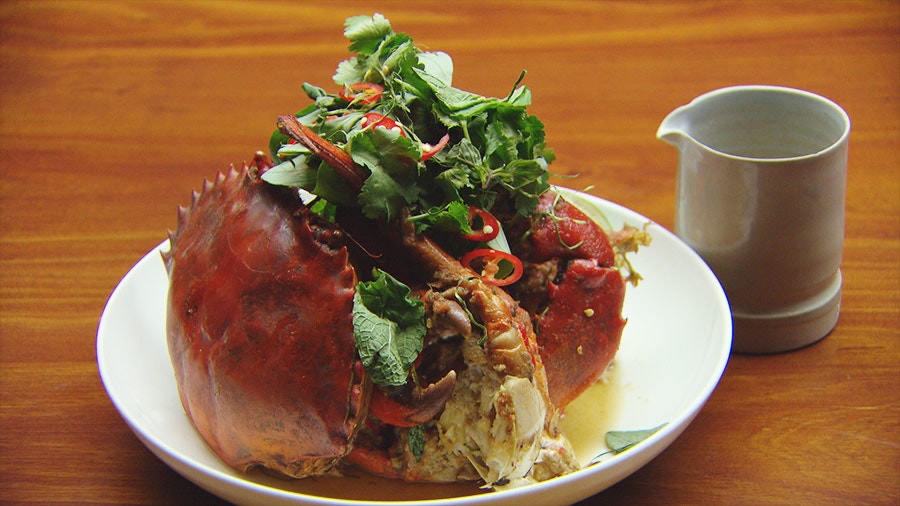 Steps
For Herb Salad Garnish, combine the ingredients and set aside in the fridge.
For the Chilli Paste, place ingredients into a small food processor and process to a coarse paste. Set aside.
For the Chilli Crab, bring a large saucepan of salted water to the boil and prepare an ice bath in a large bowl.
Place the tamarind into a small bowl and cover with 300ml hot water. Break up with a fork then pass through a fine sieve and reserve 1 cup of tamarind water.
Remove the claws from the crabs and cut the remainder of each crab into 4 portions.
Cook the crab claws in the boiling water for 3 minutes. Remove from water and plunge into ice water to cool for 1 minute.
Using a cleaver, partially break each claw, taking care to remove any shell fragments. Set claws aside with the remainder of the crab.
Place a large wok over medium high heat. Add the oil and Chilli Paste and cook until lightly golden and fragrant, about 4-5 minutes. Add all of the crab, cover with a lid and cook for 10 minutes.
Remove the lid, add the remaining ingredients and the tamarind water and cook until the crab is cooked through, a further 5 minutes.
Remove the crab and place onto serving plate.
Continue to simmer the sauce until reduced and thickened. Pour sauce over the crab pieces and garnish with the Herb Salad.