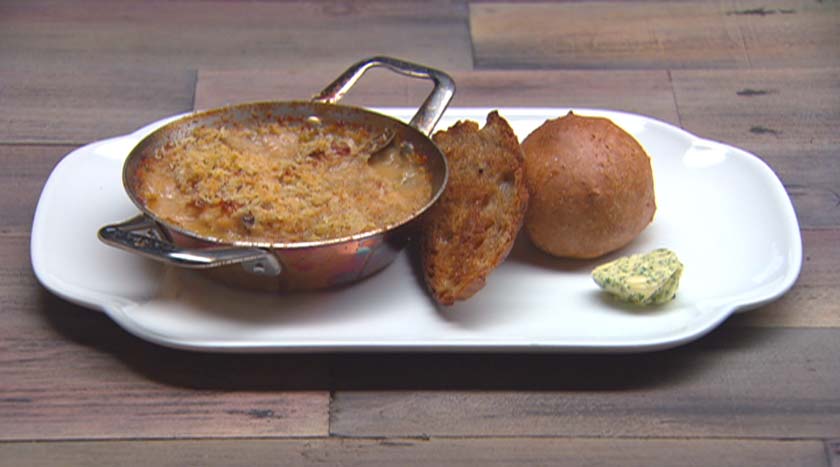 Steps
Preheat oven to 180C.
Heat oil in a large frying pan over medium-high heat. Season chicken with salt. Cook for 3-5 minutes until completely golden. Remove and place in a large bowl. Reduce heat to low. Melt 40g butter in pan. Cook eschalots and garlic for about 5 minutes or until softened, stirring regularly. Transfer to bowl with chicken, along with celery, thyme, bay leaves, wine and stock, mixing well to combine.
Place 3 pieces of chicken into individual 400ml pie dishes. Divide vegetables and stock among dishes, to cover chicken pieces. Sprinkle over parmesan, breadcrumbs and drizzle with olive oil. Place onto a large tray, and bake in oven for 1 hour.
For the salt crust dough, mix egg whites, salt, water and flour in bowl to form a dough. Divide dough into four, then roll into balls. Roll dough balls out, large enough to enclose potatoes. Place a potato into the centre of each piece of dough, and wrap up to enclose, ensuring the potato is completely encased. Place potatoes onto a tray, and bake for 1 hour.
Meanwhile, for the herbed butter, combine remaining 120g butter, chervil and a pinch of salt in a bowl. Transfer to a large piece of baking paper and roll up into a log. Refrigerate until needed.
To serve, place gratin dishes onto plates. Place a potato on the side. Serve with crusty bread and herb butter.
Notes
Serves: 4 Preparation time: 45 minutes Cooking time: 1 hour
* You can ask your butcher to cut one chicken into pieces for you. *You will need 4 x 400ml individual pie dishes for this recipe