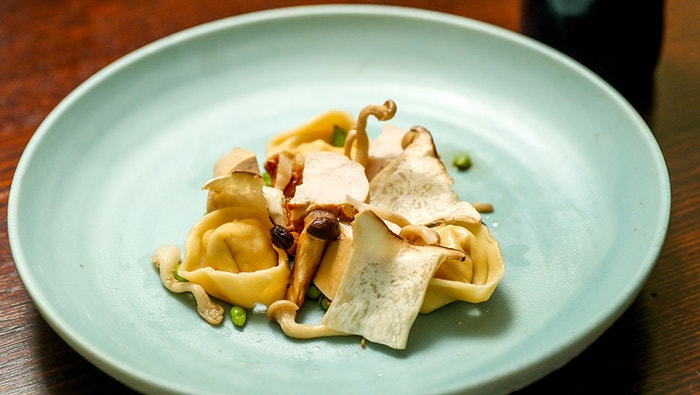 Steps
For the Chicken and Vegemite Broth, heat a medium saucepan over medium high heat. Add chopped chicken wings and cook until caramelised. Add shallots, garlic, ginger and chilli and cook, stirring, until softened. Add chicken stock to deglaze, scraping base of saucepan. Add 300ml water and allow to simmer for 20 minutes.
Strain through a fine sieve, into a clean saucepan, discarding the solids. Place over medium heat, to simmer until reduced by half, about 10 – 15 minutes. Add vegemite and fish sauce and whisk to combine then season with salt. Remove from heat and set aside, keeping warm, until serving
For the Chicken Dumpling dough, place flour, 1 egg yolk, pinch of salt, and 90ml water in a food processor and process until just combined.
Turn dough onto a clean, lightly floured work surface and knead for 5 minutes. Wrap in cling film and set aside, to rest in fridge, for 20 minutes.
Remove dough from fridge, unwrap and cut dough in half. Flatten one portion then pass through a pasta machine on the widest setting. Fold dough in half and feed through widest setting a further 5 times. Pass dough through, again, reducing setting each time, until second thinnest setting is reached. Repeat with remaining dough portion.
Lay sheets on a lightly floured bench. Using a 9cm round cutter, cut 16 rounds from the sheets. Set aside on the bench covered with a damp towel.
For the Chicken Dumpling filling, place chicken and a pinch of salt in a food processor and pulse until the chicken is finely chopped but not pasty. Add the remaining 2 egg yolks and pulse to combine. Add the cream and ginger and pulse to combine. Transfer to a piping bag.
To shape the dumplings, pipe the chicken filling into the centre of each round, dividing the filling evenly between the rounds. Fold rounds in half and seal the edges, using a little water, if required, and gently pressing to remove air from the dumplings. Bring the two corner edges together and press to form into a dumpling shape. Set aside, in fridge, until ready to cook for serving.
For the Hot Smoked Chicken, line a wok with foil so the surface is fully covered and set over high heat. Add rice, sugar, orange zest, star anise, cinnamon stick, peppercorns, and ginger and cover with a trivet.
Once wok is smoking, place chicken onto trivet, cover with a lid and smoke until chicken is cooked through, about 12-14 minutes. Remove from heat, transfer the chicken breast to a warm plate, cover loosely and leave to rest for 10 minutes or until ready to serve.
For the Fresh Mushrooms, cut the stems from the king brown mushrooms and discard. Using a mandolin, slice the mushroom lengthways into 2mm slices. Set aside until serving.
For the Pickled Mushrooms, place all ingredients, except mushrooms, into a small saucepan and place on medium heat. Bring to a boil, remove from heat and add mushrooms. Set aside, to pickle, until serving.
For the Sautéed Mushrooms, heat a small pan over high heat. Coat the mini king brown mushrooms with oil, add to the hot pan and sauté until evenly browned. Remove from heat and set aside until serving.
To serve, bring a large saucepan of water to a boil over high heat. Add Chicken Dumplings and cook until dumplings float to the surface, about 3 minutes. Remove from water with a slotted spoon and set aside on a plate.
Return Chicken and Vegemite Broth to a simmer over medium heat. Add snow peas and simmer for 1 minute. Remove from heat and transfer snow peas to 4 serving plates. Transfer broth to a serving jug.
Top snow peas with Chicken Dumplings. Slice the Hot Smoked Chicken breast into 16 even slices and add to the plate.
Sprinkle the Fresh Mushrooms and Sautéed Mushrooms with salt and add to the plate. Drain Pickled Mushrooms and scatter on the plate. Serve with Chicken and Vegemite Broth on the side.