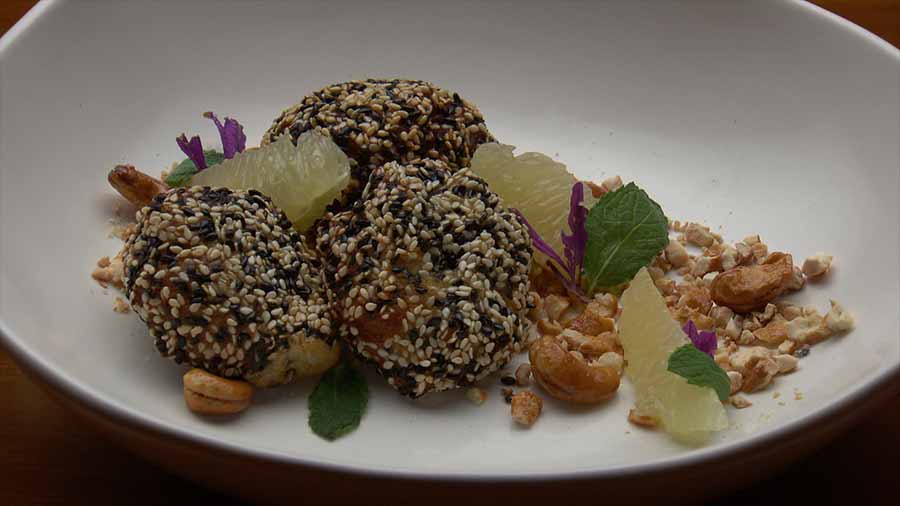 Ingredients
Grapefruit and Honey Syrup
Cheesy Sesame Crusted Fritters
Steps
Preheat oven to 180C.
For the Honey Roasted Cashews, line a baking tray with baking paper. Spread the cashews out onto the lined baking tray. Drizzle the honey over the cashews and toss to coat. Place into the oven and roast until golden, about 8-10 minutes. Remove from oven and set aside half of the honey roasted cashews in a bowl. Transfer remaining half of the honey roasted cashews into a mortar and pestle and pound to form a coarse crumb. Set aside.
For the Grapefruit and Honey Syrup, place 140ml of the grapefruit juice and remaining ingredients into a small saucepan. Place over low heat and cook, stirring frequently, until reduced and slightly sticky. Add the remaining grapefruit juice and stir to combine. Pass through a fine sieve into a clean bowl. Transfer to a small serving jug and set aside until needed.
For the Cheesy Sesame Crusted Fritters, heat oil in a deep fryer or medium saucepan to 170C.
Place haloumi and cream into the bowl of a food processor and blitz until smooth. Transfer mixture to a medium bowl. Use a spatula to gently fold in the egg yolks, flour, sugar, cinnamon, vanilla extract and salt.
Place egg whites into a separate bowl and whisk to soft peaks. Gently fold the eggwhites into the haloumi mixture until well combined.
Place the black and white sesame seeds in a small bowl and mix to combine. Place 1 tablespoon of the haloumi fritter mixture into the bowl of sesame seeds. Use hands to roll mixture into a ball shape while coating evenly in the sesame seeds. Place fritter ball onto a tray lined with baking paper. Repeat this process with remaining batter.
Once preheated oil has reached temperature. Add fritter balls, in batches, and fry until deep golden all over, about 3-4 minutes. Use a slotted spoon to remove the fritters from the oil and set aside on paper towel to drain. Repeat this process to cook the remaining fritters.
To serve, spread the Honey Roasted Cashew crumb onto a large serving plate and scatter with the whole Honey Roasted Cashews. Place Cheesy Sesame Crusted Fritters on top of the Honey Roasted Cashews. Add a few grapefruit segments, lavender flowers and mint leaves. Serve immediately with the Grapefruit and Honey Syrup.