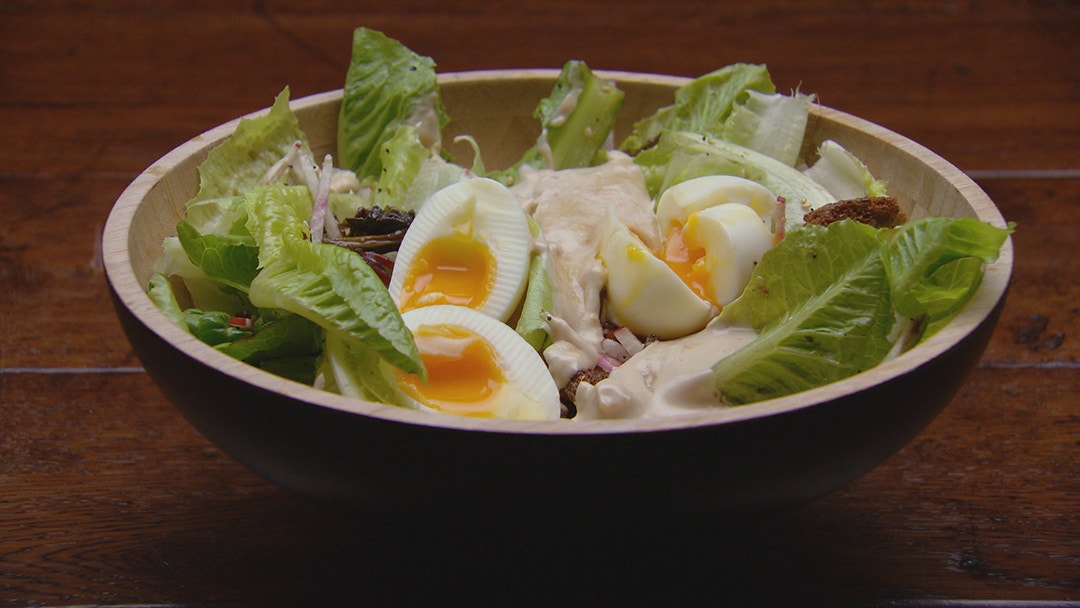 Steps
Preheat oven to 180C.
For the Bagna Cauda, bring a saucepan of water to a simmer.
Place the bulb of garlic onto a sheet of foil and wrap to enclose. Bake in the oven until tender, about 40 minutes. Remove from the oven and set aside to cool.
Squeeze the garlic cloves into a bowl and add the lemon, anchovies and chilli flakes. Cover with cling film and place over the simmering water and cook for 30 minutes. Remove from the heat and allow to cool.
Place the egg into the canister of a stick blender. Add the cooled garlic and anchovy mixture and process until blended. Gradually add the oil and process until thick and emulsified. Set aside in the fridge.
To prepare the lettuce, trim the white bases from the cos lettuce, wash well and chop roughly. Set aside. Wash and dry the green leaves, remove the stalks and set aside to char. Set aside 2/3's of the trimmed lettuce leaves for the salad. Juice the remaining leaves and chopped bases to make 200ml liquid and reserve for the jam.
For the Beetroot Stalk Jam, remove the stalk from the beets and chop the stalks and leaves into 2cm lengths.
Place all the ingredients into a frypan with 150ml water and place over medium heat. Simmer gently until reduced to a jam like consistency. Remove from heat and set aside.
For the Croutons, place the butter and garlic into a medium frypan and place over medium heat. Add the bread cubes and cook until golden and crisp. Remove from the heat and season with salt and pepper. Set aside.
For the Boiled Eggs, bring a medium saucepan of water to a simmer. Add the eggs and simmer for 5-6 minutes for runny yolks or longer until cooked to your liking. Remove the eggs and place into a bowl of cold water. Peel and cut in half, set aside.
For the Charred Lettuce, place the lettuce stalks onto a wire rack. Place over an open flame and grill until charred. Remove from the heat and chop. Set aside.
Julienne the beetroots and then set aside in cold water until required. Drain well before serving.
To serve, place the lettuce leaves and Charred Lettuce into the serving bowls and top with remaining elements. Drizzle with the Bagna Cauda and serve.