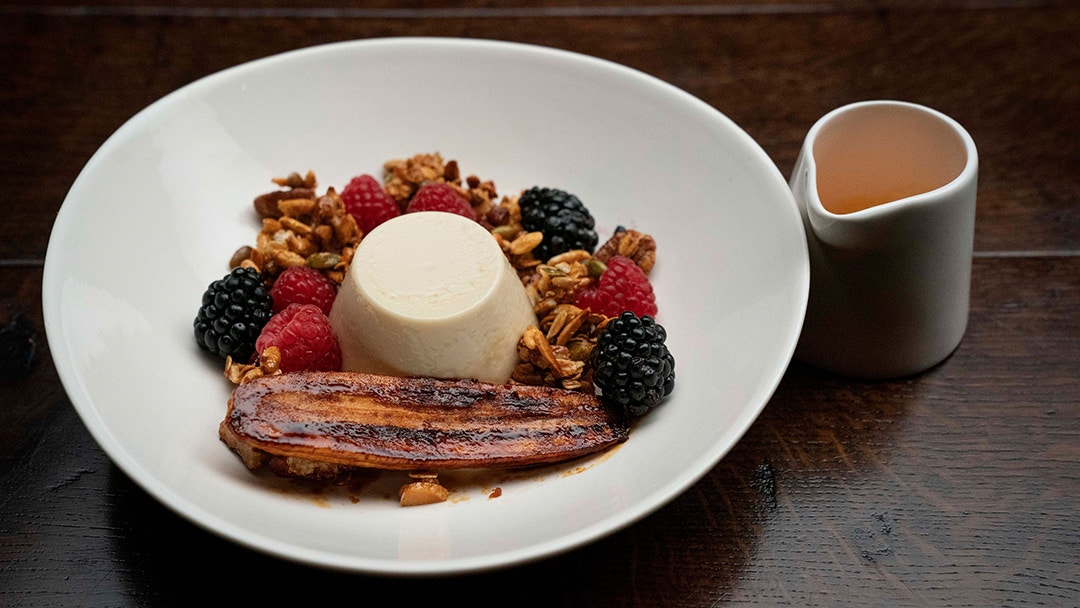 Ingredients
Honey and Ginger Panna Cotta
Steps
Preheat oven to 180C.
For the Honey and Ginger Panna Cotta, lightly spray 4 dariole moulds with canola spray and set aside on a tray.
Place the gelatine into a small bowl and cover with cold water. Once softened, drain well and squeeze gently to remove excess water. Set aside.
Place the cream, milk and honey into a small saucepan and place over low heat. Heat to below boiling point then remove from the heat.
Place the grated ginger into a muslin cloth. Squeeze the ginger over the hot cream mixture to extract the juice. Add the softened gelatine and stir until dissolved. Strain through a fine sieve into a pouring jug.
Pour into the dariole moulds and place into the freezer for 20 minutes then transfer to the fridge until set.
For the Granola, place the rice, oats, nuts and seeds onto a baking tray and toast until golden, about 10 minutes.
Remove from the oven and stir. Drizzle with the honey and return to the oven and roast until golden brown, about 10 minutes.
Sprinkle with the cinnamon and salt and continue to mix the granola while cooking to form clusters.
Once golden brown and clusters have formed, remove from the oven and set aside to cool. Break larger pieces into smaller pieces if required.
For the Orange Syrup, place the juices into a small saucepan over low heat. Simmer for 15-20 minutes until slightly thickened and syrupy. Strain through a small sieve into a pouring jug and set aside for serving.
For the Caramelised Bananas, cut the bananas in half lengthways.
Place the butter into a frypan over medium heat. Place the bananas into the pan, cut side down. Drizzle with honey and cook until golden and caramelised on the cut side, about 5 minutes. Once caramelised, turn the bananas and drizzle with honey. Cook until golden and caramelised, about 5 minutes. Remove from the heat. Drizzle with a little Orange Syrup and set aside.
Unmould a panna cotta onto the centre of each serving plate. Spoon Granola around then add half of a Caramelised Banana. Add raspberries and blackberries and drizzle with Orange Syrup to finish.