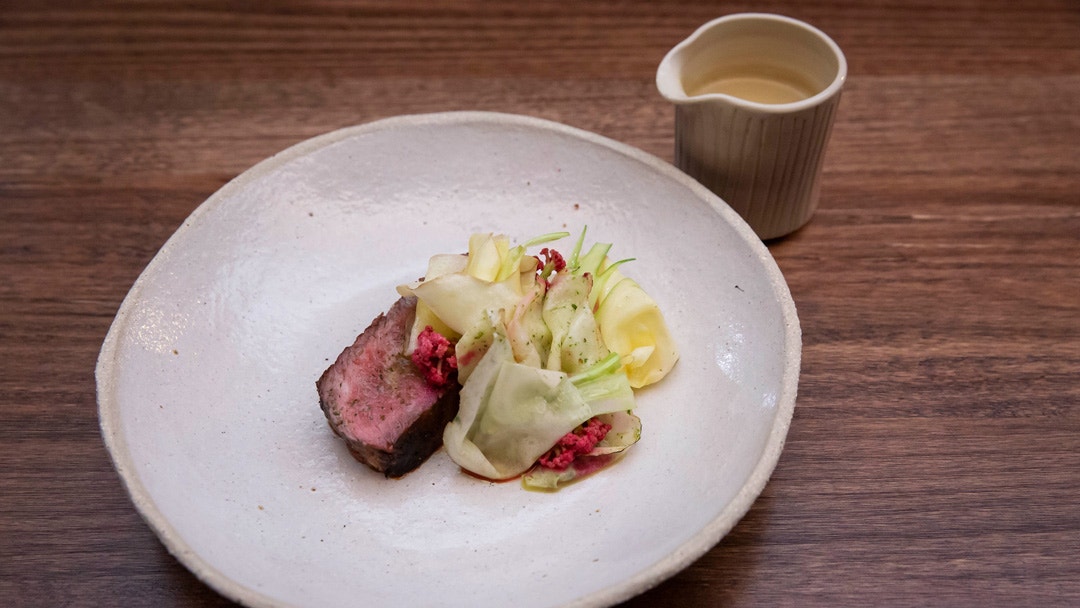 Ingredients
Hibachi Rib Eye and Beef Fat Emulsion
Steps
Prepare a hibachi or BBQ. Preheat oven to 180C.
For the Pickled Caulini, place vinegar, juice, sugar and salt into a saucepan and bring to the boil. Pour over caulini and set aside for at least 30 minutes. Drain well to serve.
For the Hibachi Rib Eye and Beef Fat Emulsion, slice the steak from the bone, trim excess fat and reserve.
Chop bones in half and roast on the hibachi until browned. Place into a saucepan with 500ml water, thyme and salt. Simmer for 20- 30 minutes or until water has reduced to 100ml. Strain through a fine sieve into a clean saucepan and set aside.
Meanwhile, chop about one quarter of the fat and place into a small saucepan over medium heat. Cook until fat has rendered out. Pass through a fine sieve and reserve 1 tablespoon. When ready to serve, return reserved stock to heat and whisk in the rendered tablespoon of beef fat then the butter and season with salt. Pour into a jug to serve.
Drizzle steaks with oil and season generously on both sides. Cook steaks on the hot hibachi or BBQ for 5-6 minutes on each side then remove from the grill and set aside to rest. Check the steak after 10 minutes, flash on the hibachi for another minute on each side or longer until cooked to your liking. Set aside to rest then slice to serve.
For the Parsnip Ribbons, place oil and thyme into a blender and process on high speed until thyme has broken down. Strain through a sieve into a small bowl.
Using a mandolin or vegetable peeler, shave parsnip into very thin ribbons and place onto a lined baking tray.
Brush the parsnip with the thyme oil and butter and bake until tender but not coloured, about 5 minutes. Remove from oven and brush lightly with a little thyme oil. Set aside.
To serve, divide slices of Rib Eye amongst serving plates. Arrange and twirl Parsnip Ribbons into a bundle and place next to beef. Tuck Pickled Caulini into parsnip bundles and drizzle with Beef Fat Emulsion.