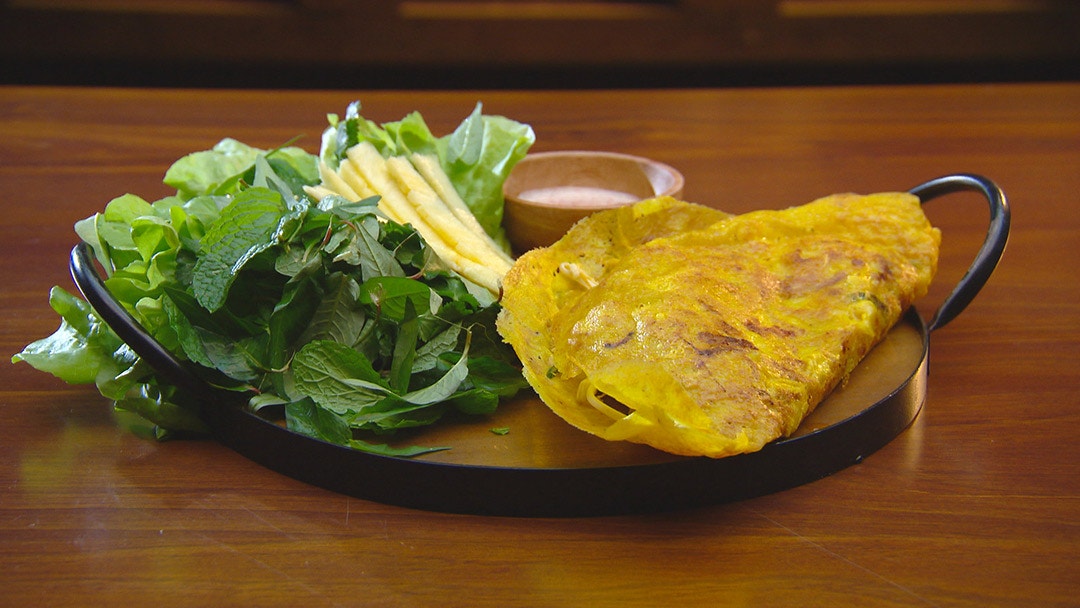 Steps
For the Nuoc Mam Sauce, mix water and sugar in a medium bowl until sugar has dissolved. Add juice of 1 lime, 3/4 of the fish sauce, garlic and chillies. Taste and adjust with remaining ingredients until sauce is balanced. It should be sweet, sour, salty with a kick of chilli. Set aside.
For the Banh Xeo, place flour, cornflour, turmeric, sugar, spring onions and salt into a large mixing bowl. Whisk coconut milk and water together. Add to the dry ingredients, whisking until a smooth batter forms. Set aside for 10 minutes for batter to develop.
Place pork belly, prawns, onion, fish sauce, 2 tablespoons peanut oil, salt and pepper into a bowl and toss together.
Heat a large wok and add 1 tablespoon peanut oil. Once the oil is hot and just before smoking, add pork belly mixture, in batches, and cook, stirring until golden brown, for about 2 -3 minutes. Remove from wok and set aside on a tray. Wipe out wok.
To cook the pancakes, add 1 tablespoon oil to wok. Whisk batter mixture then when oil is hot, add a ladle of batter and swirl wok to spread the mixture thinly.
Reduce the heat to low and cook until batter is mostly set and golden underneath, about 5 minutes. Sprinkle with ¼ cup bean sprouts and some cooked pork and prawn mixture. Cover with a lid and cook for 1 minute then remove the lid and cook the banh xeo until the outer edge is crispy and lifts off the wok. Carefully lift one side and fold the banh xeo in half. Remove from the wok and transfer to a serving board. Cover loosely with foil to keep warm. Repeat process with remaining batter and filling ingredients. If pancakes start to stick, the wok may need to be cleaned in between or try cooking pancakes in a non-stick frypan.
Serve Banh Xeo with a pile of lettuce, herbs and pineapple and Nuoc Mam dipping sauce.