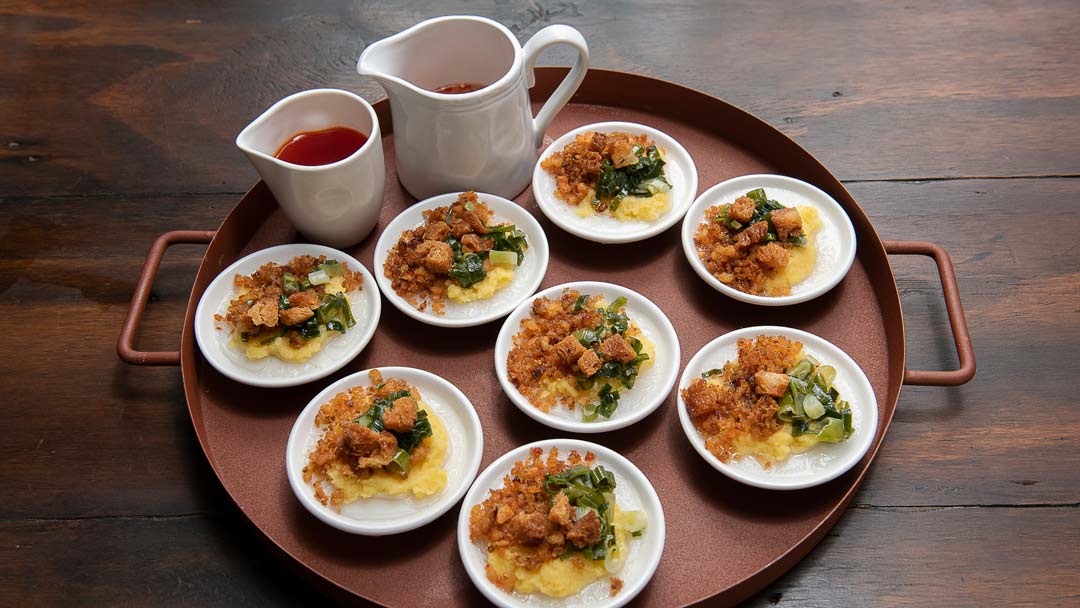 Steps
For the Steamed Rice Cakes, bring a wok of water to the boil.
Place rice flour, tapioca flour, water, oil and salt into a large bowl and mix well. Add the boiling water and whisk until smooth. Set aside to rest mixture for 15 minutes.
Pour mixture into 15 shallow 9cm diameter sauce bowls or ramekins to a depth of 1.5cm.
Place 5 ramekins into a 26cm steamer base, cover and steam over boiling water for 6 minutes.
Repeat steps 4-5 with the remaining mixture or stack 3 layers and steam all rice cakes at the same time. Remove ramekins from the steamer and set aside.
For the Mung Bean Paste, place the mung beans and water in a saucepan and bring to a boil.
Reduce heat to medium and simmer until mung beans are soft, approximately 30 minutes, skimming the surface of any scum as required.
Strain mung beans and mash to a paste using a mortar and pestle. Season with salt and set aside.
For the Prawn Crumb, marinate the prawns with the fish sauce, salt and sugar for 5 minutes.
Cook prawns in a pan over medium heat with 1 tablespoon oil for approximately 10 minutes, constantly turn the prawns while cooking.
Remove prawns and set aside to cool. Transfer to a food processor along with the drained softened shrimp and pulse until a coarse crumbly texture is achieved.
Fry onions and garlic in 3 tablespoons oil until soft. Add the prawn mixture into pan and cook until a golden brown crumbly texture is achieved. Season with salt. Remove from the heat and set aside.
For the Prawn Essence Oil, roughly chop prawn heads, shells and chillies then place into food processor along with remaining ingredients. Process for 30 seconds to break everything down.
Transfer to a saucepan and bring to 120°C, over 15 minutes while constantly stirring and monitoring temperature. Strain oil through a fine lined sieve into a bowl. Allow the solids to settle then spoon off red oil on top and place into a small serving bowl and set aside.
For the Spring Onion Oil, place the spring onion and oil in a saucepan and cook over low heat until spring onion is soft. Season with salt to taste and set aside.
For the Fried Croutons, remove the crusts and chop the bread into 1cm cubes. Place bread and oil into a frypan and cook over medium heat, stirring constantly, until golden brown.
For the Nuoc Mam Dressing, mix water and sugar together until sugar has dissolved. Add remaining ingredients and stir to combine.
To serve, place ramekins of rice cakes onto a tray. Top each with ½ tablespoon of the mung bean paste then ½ tablespoon shrimp crumb on the paste. Drizzle with ½ teaspoon shrimp oil, then ½ teaspoon of the spring onion oil. Finish with 3 pieces croutons and dress with the Nuoc Mam Sauce.