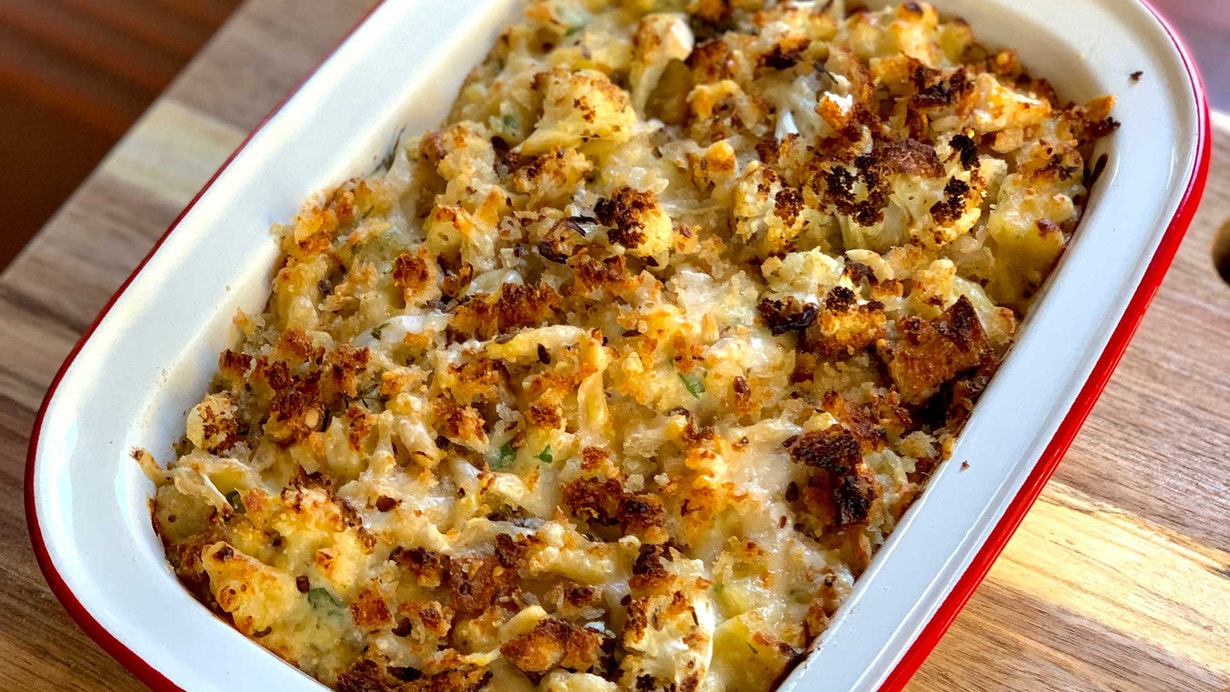 Steps
Pre-heat your oven to 250°C.
Place a medium sized saucepan over a medium heat. Add the butter and olive oil and once they are warm throw in the diced leek. Sweat the leek down for 10 minutes or until soft, making sure you don't colour.
Cut the cauliflower away from the core and into small florets about the size of a 20-cent piece. Place two thirds of the florets onto a roasting tray, drizzle with a good amount of olive oil and season with salt and pepper. Place the tray into the pre-heated oven at 250 degrees and roast for 10 minutes. The cauliflower should be caramelised and slightly charred when it's done.
Once the cauliflower is cooked, change the oven setting to grill and reduce to 180°C. Separate six or so of the smaller florets and set aside for the crumb.
While the cauliflower is in the oven, finely slice up the core of the cauliflower and the left-over florets and add it to the softened leek along with the garlic, thyme leaves and milk. Bring the mixture to a simmer and let it tick away for 20 minutes or until the cauliflower has softened. Stir in the anchovy fillets and then transfer the mixture to a blender and puree until smooth.
Return the puree back to the saucepan and place over a low heat. Add the gruyere, smoked cheddar and stir until they've melted through the mixture. Season with salt, pepper and lemon juice.
Next, pour the cauliflower and cheese puree over the cauliflower florets and macaroni and stir through the chopped parsley. Check the seasoning before transferring it to your baking dish.
Mix all the ingredients together for the crumb and then scatter over the top of the mac and cheese mix. Place baking dish under the grill for 5-10minutes or until the crumb on top is golden brown.