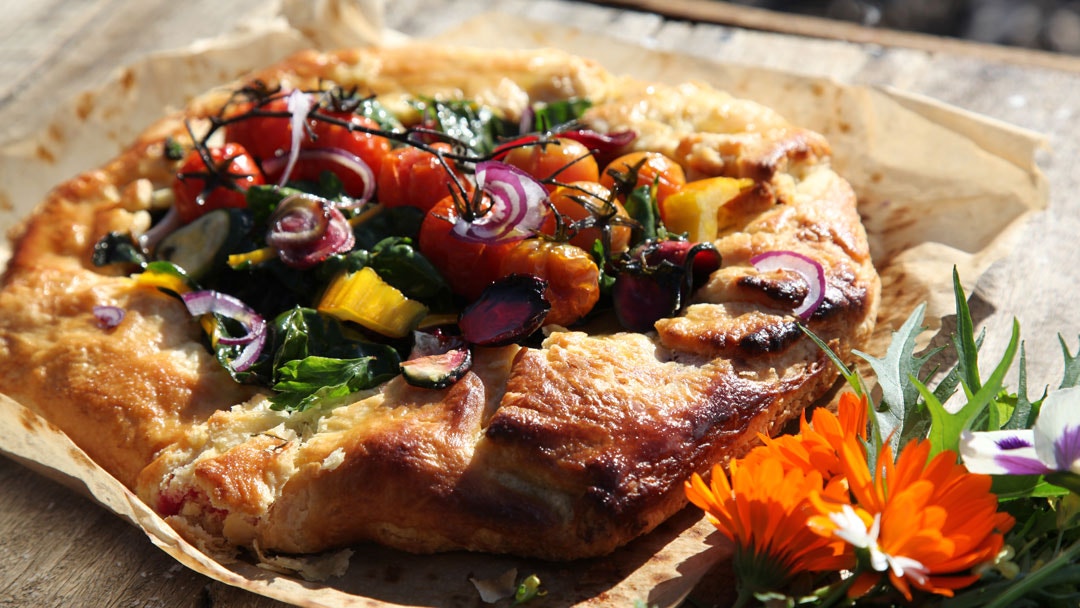 Steps
To make the pastry, combine the flour and salt in a bowl. Add the butter and using your fingers, rub in until the mixture resembles coarse breadcrumbs. Add the water and mix until the dough starts to form into a ball. Turn out onto a lightly dusted bench and knead briefly to bring the dough together.
Roll dough on a sheet of baking paper, dusted with extra flour, into a 32cm circle 3mm thick. Place the dough on a baking tray and refrigerate for 20-30 minutes.
For the filling, put the ricotta, feta and chives in a bowl. Mix together using a fork, season with salt and pepper.
Preheat oven to 220C fan-forced.
Meanwhile, put the vegetables, oil and thyme in a bowl. Season to taste. Toss to coat.
Take the dough out of the fridge, and spread the ricotta mixture evenly over the dough, leaving a 3cm border.
Layer the beetroot slice, over the ricotta mixture. Scatter with remaining veg. Fold the edge of the pastry up and over the vegetables, to create a folded-over border and an exposed center. Top with the tomatoes.
Lightly brush the edge of the dough with egg wash.
Bake the galette for 25-30 mins, until the pastry is browned and the vegetables are tender. Let the galette cool slightly on the oven tray. Serve warm or at room temperature.