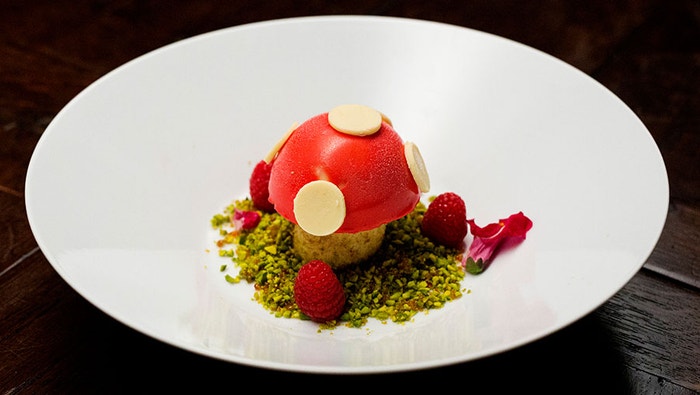 Steps
Preheat oven to 180C. Prepare a large bowl of iced water.
For the Parfait Coating, melt the white chocolate and cocoa butter in microwave, in 15 second bursts, stirring at each interval, until melted and combined. Paint the inside of a 4 x 6cm dome moulds with the white chocolate mixture until well coated with no holes. Set aside in the fridge to set until needed.
Spread the remaining white chocolate mixture onto an acetate sheet. Use a palette knife to spread the mixture evenly and smooth the top. Allow to partially set, then use a 2.5cm ring cutter to cut 20 discs. Set aside to harden completely until needed for plating.
For the Parfait, place eggs and caster sugar in a metal bowl set over a pan of simmering water. Whisk until thick and light, about 5 minutes. Remove from heat amd set aside to cool until needed.
Meanwhile, use a stick blender to purée the raspberries. Place puréed raspberries, strawberry powder and icing sugar in a medium saucepan over low heat and bring to a simmer. Simmer for 3 minutes or until fully incorporated and slightly thick. Strain through a fine sieve then fold through cooled egg mixture.
Whip cream to soft peaks and fold through raspberry mixture. Allow mixture to cool completely then spoon into white chocolate moulds and level with an offset spatula. Place in freezer to set.
For the Glaze, first place gelatine leaves in a bowl of cold water to soften.
Place sugar, glucose and cream into a saucepan and bring to temperature of 103C. Remove from heat and set aside. Remove gelatine from the water and squeeze to remove excess moisture. Add softened gelatine to the glucose mixture and stir until gelatine is fully dissolved. Add white chocolate chips and stir until melted.
Transfer the mixture to a blender and process on high speed until smooth, about 1 minute. Add food colouring and process until incorporated. Set aside to cool and thicken until needed.
When parfait domes are frozen, unmould and sit right side up on a wire rack over a baking tray. Spoon the glaze over the domes until covered completely. Allow the glaze to set and the excess to drain off, about 3 minutes. Add 5 white chocolate discs to each dome, secured with a little glaze if needed. Return to freezer to set completely.
For the Sponge, whisk all ingredients together until combined . Pour mix into a 500ml ISI gun and charge twice. Shake vigorously and discharge into a 20cm x 30cm baking tray lined with baking paper. Use a spatula to smooth the aerated batter to a thickness of 1cm. Bake for 6 minutes in the preheated oven or until just cooked.
Remove from oven and cover the sponge with a sheet of baking paper. Flip tray over on to a wire rack and peel off the base lining. Set aside to cool until needed.
For the Ganache, melt cream and chocolate in the microwave, in 15 second bursts, stirring at each interval, until chocolate is nearly melted. Remove from the microwave and use the residual heat to melt the chocolate completely. Whisk well to emulsify, then set aside to cool for 15 minutes.
Once cool, spread the Ganache onto the sponge with a spatula. Set aside for 10 minutes to set. Slice sponge in half lengthways then roll up until you have a scroll about 4cm in diameter. Trim any uneven ends if required. Set scroll aside until needed.
For the Pistachio Praline, blitz pistachios to a coarse crumb in a food processor. Spread onto a baking tray lined with baking paper. Place the sugar in a medium frypan over medium heat and allow to dissolve and turn golden.
One a golden grown colour, take off heat, allow to cool slightly and then pour over the pistachios. Allow the toffee to cool completely.
When cool enough to handle, break the pistachio toffee into chunks and place in the bowl of a food processor. Add salt blitz to a crumb.
To serve, place a sponge scroll into centre of each plate as the stem of the toadstool. Spoon Pistachio Praline around stem. Top with parfait "toadstool" tops. Scatter with fresh raspberries and flowers.