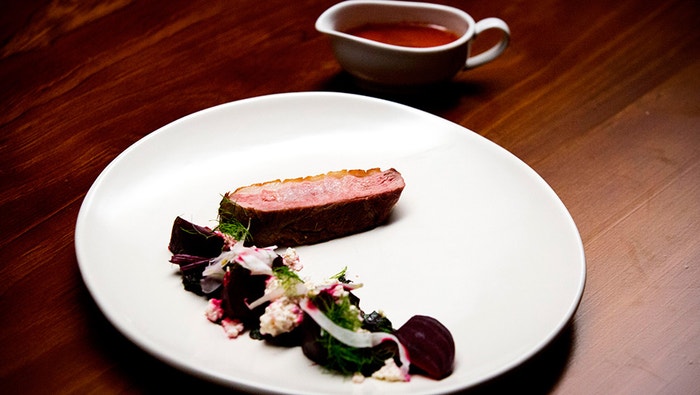 Steps
Preheat oven to 180C.
Prepare beetroot by removing leaves and stems then cut into 2cm lengths. Set aside.
For the Beetroots, place a medium sized saucepan of salted water over high heat and bring to the boil. Add beetroots to water and cook for 20 minutes or until tender. Reserve cooking water, remove beetroot and set aside to cool. When cool, remove skin, cut into wedges and set aside.
Place duck bones into a heavy based, flameproof roasting dish. Roast in the oven until caramelised, about 30 minutes.
Add mushroom and fennel to tray of duck bones. Place baking dish over a medium heat on the stove and cook until vegetables are caramelised, about 10 minutes. Add 375ml of the beetroot cooking water and simmer on low heat for 40 minutes.
Meanwhile add ginger wine to a separate frypan over medium heat and reduce by half. Strain duck stock and add to the ginger wine reduction, add 10g of the caster sugar and continue to cook until reduced by two thirds. Whisk in butter, a cube at a time and season. Set aside.
For the Beetroot Stems and Leaves, melt butter and grapeseed oil in a medium frypan. Add beetroot stems and leaves and cook over medium heat until tender. Season to taste, remove from heat and set aside on paper towel until required.
To make Ricotta, heat the milk, cream and salt in a saucepan over low heat until temperature reaches 83C. Immediately remove from heat and stir in 20ml of the vinegar. Set aside for 15 minutes.
Line a fine sieve with cheesecloth and place over a medium bowl.
Pour milk mixture into sieve and transfer to fridge to sit for 40 minutes or until well drained of whey.
For the Pickled Fennel, heat vinegar, 125ml of water and sugar over a low heat until sugar has dissolved.
Slice half of the fennel bulb with mandolin and place into a medium bowl. Cover with warm pickling liquid and set aside.
To make the Vinaigrette, combine grapeseed oil and vinegar in a bowl and whisk until combined. Season and set aside.
To cook the Seared Duck Breasts, score skin lightly. Season well and place into a cold oven safe frypan and place over low heat. Cook for 8 minutes until skin is golden and crisp. Turn breasts over, transfer pan to oven and cook for a further 7-8 minutes until just pink. Remove from oven and allow to rest.
To serve, slice duck into halves lengthways and place onto plate. Place beetroot leaves and stalks to the side then add beetroot wedges, fennel pickle and ricotta. Drizzle vegetables with vinaigrette and add some duck sauce to plate beside duck.