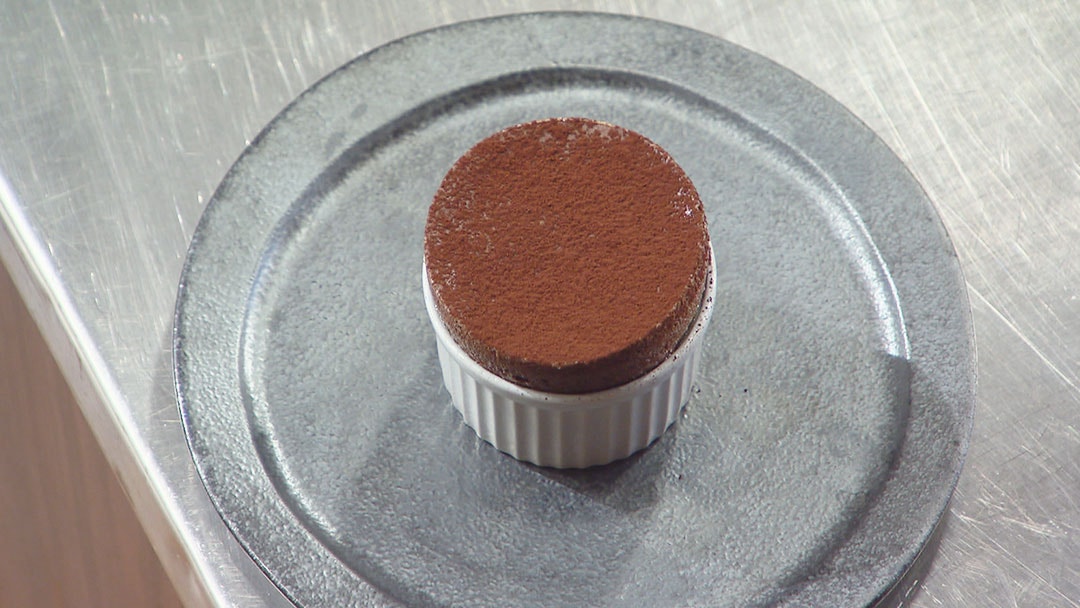 Ingredients
Chocolate Crème Patisserie
Steps
Preheat oven to 190C.
For the Chocolate Crème Patisserie, place milk and vanilla into a saucepan and bring to a gentle simmer. Whisk egg yolks, caster sugar and cornflour in a bowl. Pour hot milk through a fine sieve into the egg mixture and whisk to combine. Return to the saucepan and bring to a simmer, whisking constantly, until thickened. Remove from heat and transfer mixture to a clean bowl. Add chocolate and whisk until smooth. Set aside at room temperature.
Use spray oil to grease four x 9cm diameter x 6.5cm deep ramekins. Place ¼ cup caster sugar into one ramekin. Turn ramekin to allow the sugar to evenly coat the inside of the ramekin, allowing the sugar to fall out into next ramekin, tapping out any excess. Repeat process with remaining ramekins and discard any leftover sugar. Place onto a baking tray and set aside.
Place egg whites into the bowl of an electric mixer and whisk to soft peaks. Gradually add 50g caster sugar, one teaspoon at a time, until firm peaks form. Mix ¼ of the egg white mixture into the chocolate crème patisserie, then another ¼. Fold in remaining egg white mixture very carefully, retaining as much air as possible, until combined.
Divide mixture between ramekins and tap gently on the bench to remove air bubbles. Place onto a tray and bake until risen by at least 2cm but still gooey in the middle, about 15-20 minutes.
Remove from the oven and dust with cocoa powder. Serve immediately.