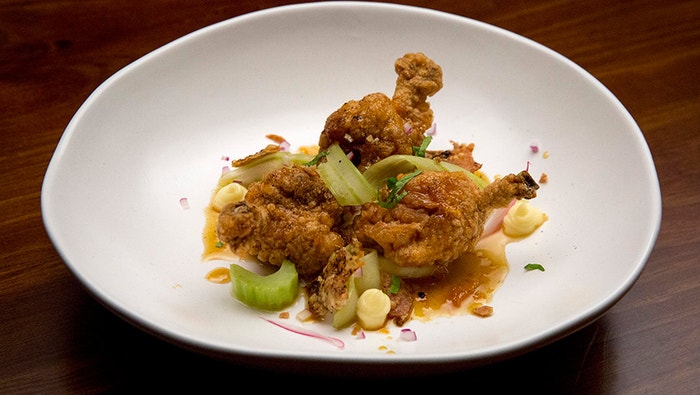 Steps
Preheat oven to 180C.
For the chicken, remove skin from wings and set aside. Reserve skin.
For the Crispy Chicken Skin, place chicken skin onto a tray lined with baking paper, season generously with salt and mixed pepper and cover with another sheet of baking paper and tray. Bake in oven for 30 minutes until golden and crisp. Remove from the oven and set aside on paper towel.
For the Pickles, place celery and onion in a small bowl.
Place vinegar, sugar, peppercorns and ½ cup water into a small saucepan and stir over low-medium heat until sugar has dissolved. Remove from heat and pour over celery and red onion. Set aside to infuse for 20 minutes then drain and set aside.
For the Sticky Orange Glaze, heat grapeseed oil in a medium frypan over medium high heat. Add chicken carcass and cook, turning, until well browned all over. Remove carcass from pan and discard. Deglaze pan with orange juice, vinegar and 1 tablespoon water.
Reduce heat to low and cook for a further 2 minutes. Add sugar, orange zest, and salt and continue cooking until sauce is reduced to a sticky consistency. Season to taste and set aside.
For the Parsnip Puree, place parsnip into a medium sized saucepan. Cover well with water and set over a medium-high heat. Bring the water to a boil, reduce heat and allow to simmer until parsnip is soft, about 20 minutes. Remove from heat and strain.
Return cooked parsnip to the saucepan. Add milk and cream and puree, using a stick blender, until smooth. Add butter and season with salt to taste. Transfer puree to a piping bag and set aside, keeping warm, until required.
For the Boxing Chicken, remove the tips from the reserved wings then cut each wing in half. French trim the wing portions and place into a small bowl with half the salt and pepper and grapeseed oil. Stir well and set aside.
In a separate bowl, place flour, eggs, and remaining salt and pepper and whisk until smooth. Set aside.
Place a medium sized saucepan over high heat. Add enough grapeseed oil to deep fry and heat to 200C.
Once oil is hot, coat boxing chicken pieces in batter and allow excess to drain. Deep fry, in batches, until golden and crispy, about 3-5 minutes. Remove from oil and set aside to drain on paper towel.
To serve, pipe Parsnip Puree onto serving plates, top with fried Boxing Chicken, Sticky Orange Glaze and some Pickles. Garnish with celery leaves and red onion.