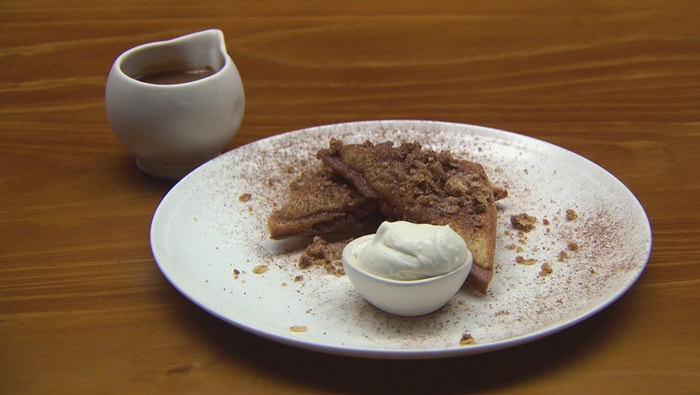 Steps
Preheat oven to 160C.
For the Crème Fraiche Cream, whip crème fraiche and cream to soft peaks. Add sugar and lemon and mix to combine. Set aside in a small serving dish, covered, in the fridge, until needed.
For the Spiced Dust, place spices on a baking tray lined with baking paper. Toast the spices in the pre-heated oven for 7-8 minutes until aromatic.
Once spices are toasted, transfer to a mortar and pestle, or spice grinder, and grind to a fine powder. Add sugar and stir through to combine. Set aside until needed.
Increase oven to 180C.
For the Oat Crumble, mix together dry ingredients in a small bowl. Add butter and rub through using fingertips to form a rough crumb.
Spread the crumble mixture onto a baking tray lined with baking paper and bake for 10 minutes until golden. Remove tray from oven and set aside to cool until needed.
For the Butterscotch Schnapps Sauce, place sugar, crème fraiche, cream and butter in medium non-stick frypan and cook on medium heat until bubbling and sugar has dissolved. Add salt and schnapps, reduce heat slightly and simmer for 5 minutes before pouring into a small jug. Set aside, keeping warm until needed.
To prepare the Apple Jaffle Filling, place brown sugar into medium frypan and cook over medium high heat until sugar has melted. Add apples, cinnamon, star anise, cloves, butterscotch schnapps and 20ml water, reduce heat and gently simmer until apples are soft.
For the Vanilla Bean Butter, combine the vanilla bean paste and unsalted cultured butter and beat until slightly paler in colour. Set aside for spreading on brioche.
To assemble jaffles, spread slices of brioche with Vanilla Bean Butter. Place a slice of brioche into jaffle iron and top with ¼ of apple mix then top with buttered brioche. Close jaffle iron and cook until golden brown. Transfer to a warm oven to keep warm while preparing remaining jaffles.
To serve, cut each jaffle in half. Place 2 jaffle halves, overlapping, on each plate. Sprinkle Oat Crumble on top of each jaffle. Sieve Spiced Dust over each plate and serve with a ramekin of Crème Fraiche Cream and jug of Butterscotch Schnapps Sauce.