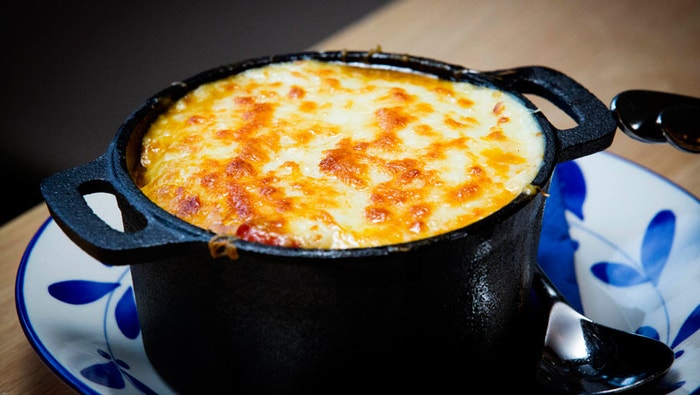 Steps
Heat oven to 180C.
For the Tomato Sauce, place truss tomatoes in a baking dish and roast in the pre-heated oven until coloured but still holding shape, about 30 minutes. Wrap garlic cloves in foil and bake for 30 minutes until soft. Transfer roast tomatoes and peeled roasted garlic to a large saucepan along with canned roma tomatoes, cinnamon and salt and pepper to taste. Simmer for 20-25 minutes over medium heat until reduced. Remove from heat and set aside until needed.
For the Sautéed Vegetables, place a large frypan over medium heat. Add the grape seed oil, onions, thyme sprigs and 1 tbsp of the oregano leaves. Cook, stirring, until softened and caramelised. Season to taste, remove from pan and place in base of a 25cm x 19cm baking dish.
Return frypan to heat and add the remaining grape seed oil, mushrooms, remaining herbs and salt and pepper to taste. Cook over a medium heat until soft. Remove from pan and spread over onions in the baking dish.
Heat a small charcoal grill or barbecue, or alternatively, place a wire rack over an open flame. Place whole eggplant over the flame and cook, turning, until skin has blistered but flesh is still firm. Remove and plunge into ice water. Remove skin, cut into 1cm slices then arrange over mushrooms in baking dish. Set aside until needed.
For the Bechamel, place milk, whole onion, bay leaves and salt and pepper to taste in a saucepan and bring to the boil. Remove form heat and set aside until needed. Make a roux by heating the butter in frypan and once melted add flour and whisk together until mixture comes away from sides of pan and forms a paste. Slowly whisk hot milk mixture into the roux, continue to stir until smooth and thick. Season generously and remove from heat. Set aside until needed.
To assemble the Moussaka, spread tomato sauce over the vegetables in the baking dish. Top with bechamel sauce and grated kefalograviera cheese.
Bake for 25-30 minutes until golden and bubbly. Remove from oven and allow to rest for 15 minutes before cutting and serving.
Meanwhile, to make the Tomato Salad, place cherry tomatoes onto a baking tray lined with baking paper. Drizzle with 1 tbspof the olive oil and season well. Roast for 15 minutes until soft but still holding their shape. Remove from oven, allow to cool then place into a medium salad bowl. Slice figs in quarters, chop heirloom tomatoes as desired and add to salad bowl. Add nasturtium leaves, oregano and feta. Whisk or shake together the remaining olive oil and vinegar. Season, toss gently and serve with slices of Moussaka.