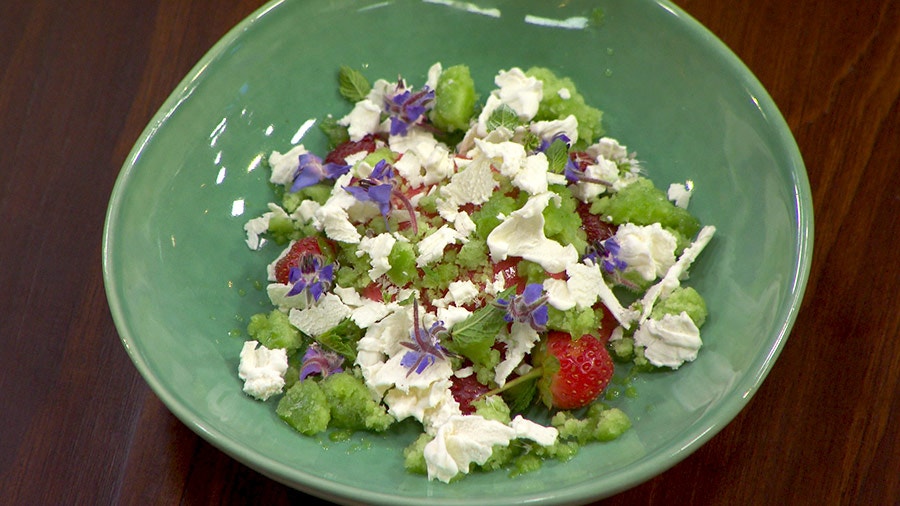 Ingredients
Compressed Strawberries and Cucumber
Steps
Pre-chill ice cream machine.
For the Coconut Shavings, line a loaf tin with baking paper and set aside.
Place milk, pure cream and sugar into a medium saucepan over high heat and bring to the boil, stirring occasionally. Meanwhile, place coconut milk powder into a large bowl. Once milk and cream mixture is boiling, pour onto coconut milk powder and whisk well until smooth. Pass mixture through a fine chinois into a clean bowl and set over an ice bath to cool to 3°C.
Place mixture into the bowl of a stand mixer fitted with a whisk attachment. Add the double cream and whisk until soft peaks form. Pour mixture into the prepared loaf tin and level off with an offset metal spatula. Place into the freezer until firm.
For the Strawberry Sorbet, hull strawberries and process in a blender with the puree, caster sugar and lime juice until smooth. Pass through a sieve and pour into an ice cream churner and churn according to manufacturer's instruction. Transfer sorbet to the freezer and when firm, quenelle 4 serves and set aside on a lined tray in freezer.
For the Cucumber Granita, place cucumbers in a blender, process until smooth then pass through a fine sieve. Measure out 400g of cucumber puree and set aside. Place glucose and 100mls of water in a small saucepan on the stove and bring to simmering pot. Add the gelatine and soaking water to the pot and stir to dissolve, then pour into the cucumber puree. Stir to combine then pass through a sieve and pour into a shallow tray. Place in the blast freezer and freeze until just set then scrape with a fork. Place back in the freezer for 1 hour then shave again with a fork. Set aside in the freezer.
For the Lime and Coconut Jelly, combine lime juice and the rum in a small saucepan bring to simmering point over a medium heat. Squeeze the gelatine from the water and add to the saucepan. Stir to combine, pass through a sieve into a shallow 20cm x 20cm tray and place into the freezer to chill. After 30 minutes, place in the fridge to finish setting. Once completely set, slice the jelly into small 1cm cubes and set aside and return to fridge.
For the Compressed Strawberries and Cucumbers, place ingredients into a prepared vacuum seal bag, use vacuum machine to extract the air then seal the bag and set aside for 30 minutes.
To serve, place the Lime and Coconut Jelly cubes at the base of each plate. Open vacuum bag and strain Compressed Strawberries and Cucumbers and arrange around the jelly. Place a quenelle of Strawberry Sorbet in the middle of each plate and cover with Cucumber Granita. Prepare a bowl of liquid nitrogen. Remove loaf tin from freezer, lift out Coconut shavings block and working quickly, shave block using a mandolin into the bowl of liquid nitrogen. Carefully lift out Coconut Shavings and place over granita. Arrange borage flowers, mint leaves and mint flowers around the Coconut Shavings and serve immediately.