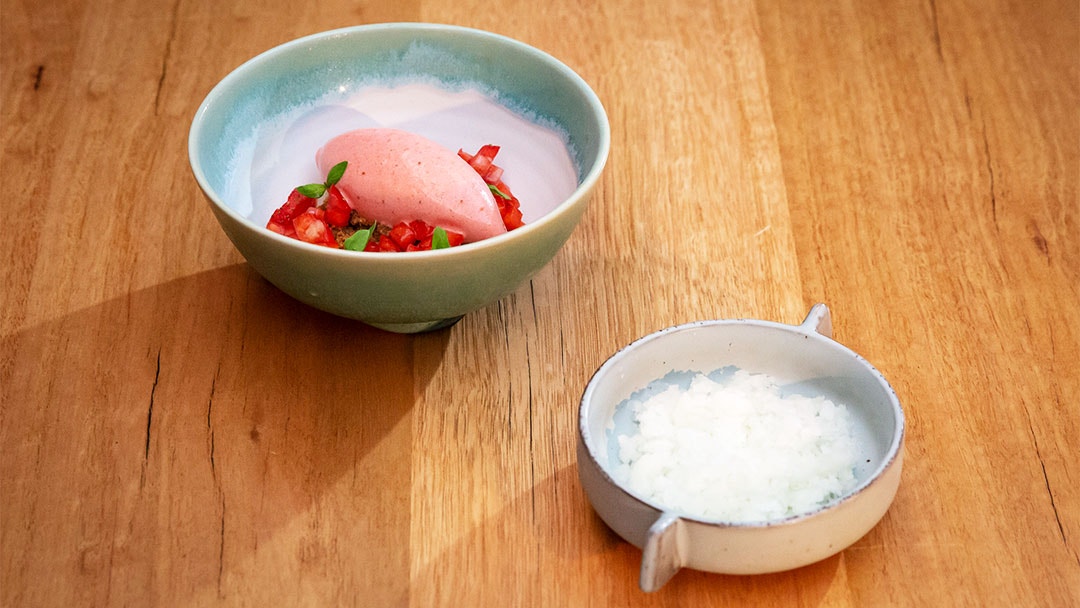 Steps
Prechill ice cream machine. Preheat oven to 180C.
For the Strawberry Gelato, place ingredients into a saucepan and heat to 85C. Remove from the heat and process with a stick blender until smooth. Transfer to a bowl and place over an ice bath to cool.
Pour into ice cream machine and churn according to manufacturer's instructions.
For the Sweet Whipped Ricotta, line a large sieve with several layers of muslin cloth and place over a large bowl.
Place milk, cream and lemon into a large saucepan and bring to the boil. Stir gently until mixture starts to separate then remove from the heat. Allow to sit for 10-15 minutes.
Carefully pour into the prepared sieve and set aside drain and cool in the fridge. Reserve all whey in the saucepan and bowl for the granita.
Once well drained, place ricotta, sugar and zest into the bowl of a small food processor and pulse until smooth and creamy.
For the Whey Granita, strain reserved whey through a fine sieve and add remaining ingredients. Stir to dissolve sugar.
Pour into a deep baking tray and freeze until solid. Scrape the surface to form ice crystals and reserve in the freezer until ready to serve.
For the Brown Butter Crumble, place butter into a small saucepan and cook over medium heat until brown specks appear. Remove from the heat and add flour, sugar and salt. Mix well to combine.
Spread onto a lined tray and bake for 7 minutes. Remove from oven and stir. Return to the oven for 6-8 minutes until golden brown and crisp. Remove from the oven and set aside to cool. Transfer to a food processor and pulse to a fine crumb. Set aside in an airtight container.
For the Macerated Strawberries, combine vinegar and sugar in a bowl and mix well to dissolve sugar. Add strawberries and set aside. Drain well to serve.
To serve, arrange 6 -7 slices Macerated Strawberries in the base of each serving bowl. Add a dollop of Sweet Whipped Ricotta, a spoonful of Brown Butter Crumb and a quenelle of Strawberry Sorbet. Arrange fresh strawberries around the sorbet and finish with some Whey Granita and basil leaves.