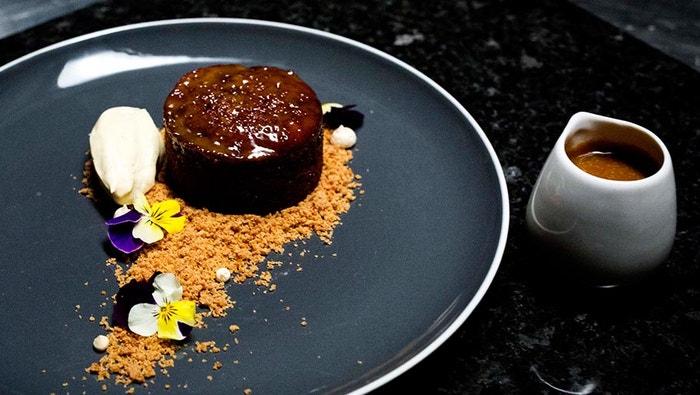 Steps
Preheat oven to 100C.
For the Brown Sugar Meringue, whisk the egg white in an electric mixer until soft peaks form. Gradually add the caster sugar, followed by the brown sugar, 1 tablespoon at a time until sugar is dissolved and meringue is glossy.
Spoon meringue mixture into a piping bag fitted with a small round tip. Pipe dots of various sizes onto a lined baking tray and bake in oven for 30 minutes. Remove from oven and set aside to cool.
Increase oven temperature to 160C.
For the Cinnamon Crumb, sift all dry ingredients into a bowl, add melted butter and use a fork to combine.
Pour mixture onto a lined baking tray and cook until golden brown, about 15 minutes. Remove from oven and set aside to cool completely.
Transfer to a food processor and pulse to a coarse crumb. Set aside.
For the Butterscotch Sauce, place all ingredients into a small saucepan and simmer over a low heat until dissolved. Increase to medium heat and allow mixture to bubble away for 5 minutes. Add bourbon whiskey. Add salt, to taste, and set aside in saucepan.
For the Sticky Date Pudding, grease 6 x 8cm wide by 5cm high ramekins and place onto a baking tray.
In a small saucepan, bring 150ml of water to the boil then remove from heat. Place pitted dates and bicarbonate of soda into water and set aside.
Cream butter and sugar in a bowl. Once creamed, add egg and vanilla bean paste and beat to combine. Add sifted flour and cinnamon and mix until just combined.
Fold the date mixture into the cake batter until just combined and divide between ramekins. Bake in oven for 20 minutes.
Remove puddings from oven and use a skewer to poke holes in the top of the puddings. Pour some of the butterscotch sauce over the puddings to soak in and return to oven for 5 minutes. Remove from oven and set aside in ramekins to cool.
For the Mascarpone Cream, place thickened cream and brown sugar in an electric mixer and whip until soft peaks form. Add mascarpone and vanilla and whisk until just combined, set aside in a bowl in the fridge until needed.
To serve, spoon cinnamon crumble on plate. Place a pudding on one side of the crumb. Scatter different sized meringues in and around the cinnamon crumble. Using dessert spoons heated in hot water to quenelle mascarpone cream and place onto the plate next the pudding. Garnish with edible flowers. Pour hot butterscotch sauce into jug and serve.