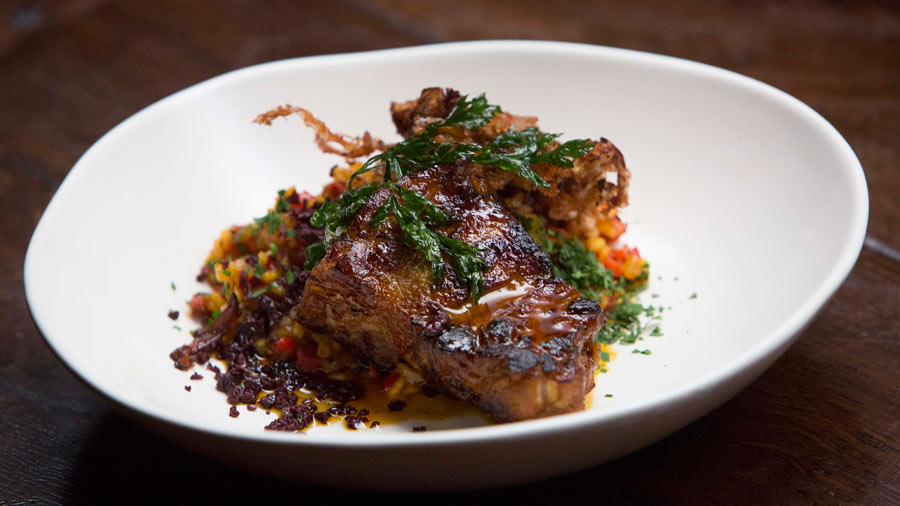 Steps
Turn pressure cooker on to browning setting.
For the Pork, add oil to the pressure cooker then add the pork and brown all sides. Remove pork pieces from pressure cooker and set aside. Add onion, capsicum, garlic, anchovies, chilli and paprika to the pressure cooker. Stir until onion has softened. Deglaze with Pedro Ximinez sherry and cook until slightly reduced. Return pork pieces to the pressure cooker then add chicken stock. Add saffron and preserved lemon and stir through. Cover and seal pressure cooker and cook on high pressure for 35 minutes.
Release steam from the pressure cooker then remove pork pieces and set aside, reserving cooking liquid. Heat a medium frypan over medium heat. Add 4 of the pieces of reserved pork to the pan and sear until deep golden in colour. Remove from pan and set aside.
For the Pork Floss, shred the remaining pork piece into strands using a fork. Place pork strands onto paper towel to dry and set aside.
Heat a medium saucepan of oil to 190C.
Add dried pork strands and fry until golden and crisp, about 2 minutes. Remove from oil and set aside on paper towel to drain. Reserve saucepan of oil for later use.
For the Pork Caramel, place 400ml of the reserved cooking liquid from pressure cooker into a medium frypan along with caster sugar. Simmer until reduced to a caramel then set aside, keeping warm.
For the Rice, place chicken stock in a medium saucepan over medium heat and bring to a simmer.
Meanwhile, heat olive oil in a large frypan over medium heat. Add onion and garlic and sauté until soft, about 3-4 minutes. Add chorizo, preserved lemon, paprika, capsicum, chilli and saffron to the onions and garlic and cook until chorizo is golden, about 3-4 minutes. Add rice and stir until translucent.
Ladle in the chicken stock to the rice and simmer, stirring occasionally, until liquid has been absorbed by the rice. Continue to add remaining chicken stock, a ladle at a time, until rice is cooked through and liquid has been absorbed. Add Pedro Ximinez sherry and season to taste. Set aside, keeping warm.
For the Dried Olives, place olives onto a plate and cook in the microwave in 30 seconds bursts until almost completely dry, about 1 ½ minutes. Chop olives into a fine dice and add to a bowl with the parsley, toss to combine and set aside.
For the Crispy Parsley, heat saucepan of reserved deep frying oil up to 160C. Add parsley and fry until crisp and translucent, about 1 minute. Drain on paper towel.
To serve, place some Rice onto the serving plate. Top with a piece of the Pork, Dried Olives and Pork Floss. Spoon some of the Pork Caramel over pork and finish with a sprig of Crispy Parsley.