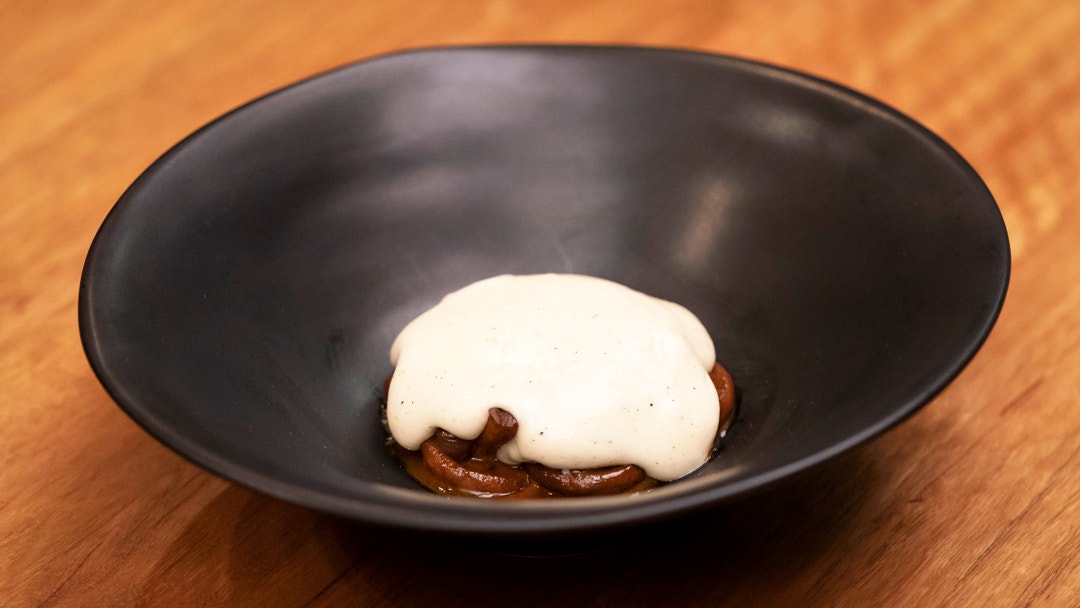 Steps
Fill and heat a water bath to 57.5C.
For the Glazed Mushrooms, soak the porcini in Madeira.
Chop carcass and wings into small pieces and toss in tomato paste. Set aside.
Place shallots into a deep frypan and saute over medium heat for 3 minutes. Add the chicken carcass and wings and cook until well caramelised.
Add the porcini and Madeira to deglaze and simmer until liquid is almost evaporated.
Add chicken stock and simmer for 30 minutes. Add veal jus and soy sauce, to taste and stir until combined.
Strain mixture through a fine sieve into a clean saucepan and continue to simmer until glossy, thickened and almost syrupy. Remove from the heat and set aside.
When ready to serve, place butter in a frypan over medium heat and add shiitake mushrooms. Cook until tender, about 3-4 minutes. Add enoki and a splash of chicken reduction and toss the mushrooms to coat. Remove from the heat.
For the Date Puree, melt butter in a frypan and sauté shallots until translucent. Add dates and cook until breaking down, about 8 minutes.
Add chicken stock and simmer for 20 minutes. Remove from the heat. Use a stick blender or transfer to a food processor and blend to a fine puree. Pass through a fine sieve and season with salt. Transfer to a piping bag and set aside.
For the Brown Butter Foam, place potatoes into a saucepan and cover with water. Season with salt and simmer potatoes until tender. Remove from the heat and drain well. Transfer to a blender.
Meanwhile, place cream into a small saucepan and simmer over low heat until reduced by 1/3. Remove from the heat.
Place butter into a small saucepan and cook over medium heat until browned. Remove from the heat.
Process the potato with the cream and browned butter until smooth. Season with salt and transfer to a syphon gun. Charge twice, shaking well between charges. Set aside in water bath.
To serve, place Glazed Mushrooms in serving bowls and pipe date puree around the mushrooms. Garnish with the shallot rounds and dispense potato foam into the middle.