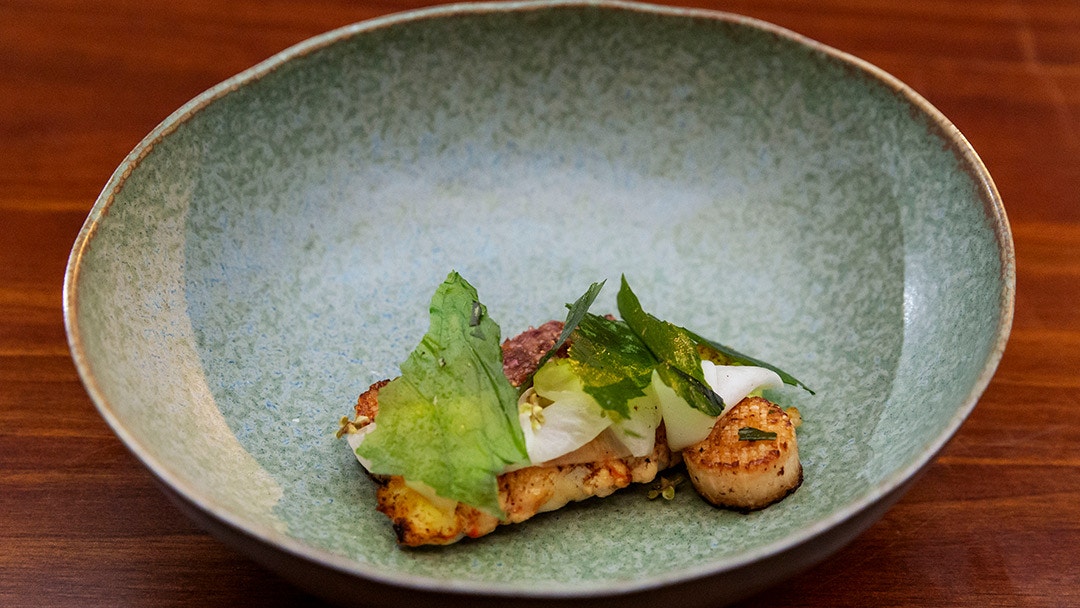 Steps
Preheat oven to 180C. Prepare a hibachi grill if using.
For the Scampi Oil, remove heads, shells and veins from scampi. Reserve the meat on a tray in the fridge.
Crush the shells and place in a small saucepan with oil. Cook over low heat for 30 minutes, stirring regularly, until oil is bright orange and fragrant.
For the Fig and Scampi Emulsion, place oil into a small flameproof roasting dish over medium heat. Add the duck bones and cook until golden brown all over. Transfer the dish to the oven and cook until well browned, about 10 minutes. Remove from the oven and set aside.
Place butter into a saucepan over medium heat. Add the shallots and cook, stirring until soft but not coloured. Add the figs and cook until soft. Add lemon myrtle and roasted duck bones. Add Worcestershire sauce to deglaze the pan and simmer until reduced by half.
Add water and bring to the boil. Reduce heat and simmer for 20-25 minutes.
Pass through a lined sieve into a small saucepan. Simmer liquid until reduced and thickened. Remove from the heat.
Season with salt and then whisk in Scampi Oil then vinegar, to taste. Season with salt. Set aside and reheat gently to serve.
For the Turnip Leaf Crisp, wash and dry turnip leaves and place in a single layer on a baking tray. Drizzle with oil and salt.
Cover with a sheet of baking paper and another baking tray. Bake in the oven for 15 minutes. Remove from the oven, uncover and allow to cool and crisp. Break into shards.
For the Pickled Turnip, place the vinegar, sugar, water and peppercorns in a saucepan and bring to a simmer. Remove from heat.
Using a vegetable lathe, shave slices from the turnips. Trim the edges and place the slices into hot pickling liquid. Pickle the turnips for 20-30 minutes then drain well to serve. Remove the cores from the lathe and set aside on a chopping board
For the Turnip Scallops, cut the reserved turnip cores into 2cm thick rounds.
Score the flat sides with a sharp knife to create a fine crisscross pattern.
Place butter into a frypan over medium-high heat. Add the turnips and cook, basting with the butter, until patterned sides are well caramelised. Remove from the pan and transfer to paper towel. Season with salt.
For the BBQ Figs, heat a grill pan over medium high heat, if using.
Cut figs in half and brush lightly with Scampi Oil. Place cut side down onto hibachi or grill pan until caramelised and soft. Transfer figs to a chopping board and chop into a fine paste. Set aside.
For the Butter Seared Scampi, place a small frypan over medium-high heat. Add butter and when hot, add the scampi and sear until golden, about 40 seconds. Turn over lightly then remove from heat.
Brush scampi with Scampi Oil and place in a sieve. Lightly smoke over the hibachi coals for 15-20 seconds or in a smoking hot grill pan for 20-30 seconds. Transfer to a tray and season with salt.
To serve, place a scampi on one side of each serving plate. Add Turnip Scallops, a quenelle of BBQ Fig, some Pickled Turnip and top with Turnip Leaf Crisp. Add a spoon of Fig and Scampi Emulsion and serve immediately.