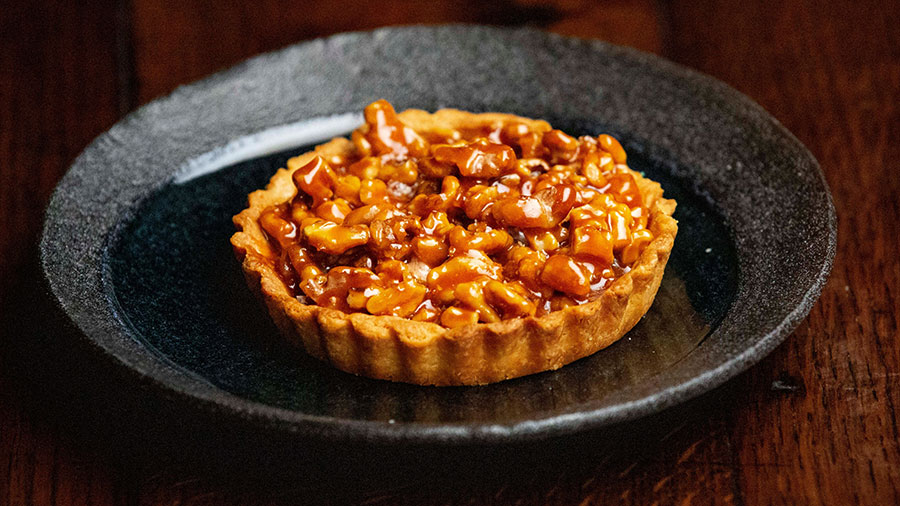 Ingredients
Salted Caramel and Walnut Filling
Steps
Pre-chill ice cream machine. Prepare an ice bath in a medium bowl. Preheat oven to 180C.
For the Star Anise Ice Cream, place the cream, milk and star anise into a medium saucepan and place over a low heat. Bring to just below boiling point then remove from the heat. Discard the star anise.
Meanwhile, place the egg yolks and sugar into the bowl of an electric stand mixer fitted with a whisk attachment. Whisk until thick and pale.
While whisking, pour half of the hot milk mixture into the bowl and whisk until combined. Transfer the egg mixture to the saucepan containing the remaining milk mixture.
Return to a medium heat and stir continuously with a spatula until the mixture thickens and reaches 82C.
Pour through a fine sieve into a metal bowl and place over the ice bath to cool. Whisk in a pinch of salt and stir occasionally until cold. Once cold, transfer to the ice cream machine and churn according to manufacturer's instructions. Place into the freezer until required for serving.
For the Tart Shell, place ingredients, except the cream, into the bowl of a food processor and pulse until butter is just combined with flour. With the motor running, slowly add the cream in small amounts until the mixture comes together and forms a dough.
Divide the dough into four.. Press the dough evenly over the base and up the sides of four 10cm diameter fluted tart shells, ensuring the corner edge is not too thick. Trim away the excess dough.
Cover the tart shells with baking paper and fill the cavity with rice or baking beads.
Place the tins onto a baking tray and bake in oven for 20 minutes. Remove from oven and carefully lift out the paper and rice/beads.
Return the pastry cases to the oven bake until lightly browned, about 10 minutes.
Remove from the oven and set aside on the bench to cool in the tins.
For the Walnut Salted Caramel Filling, lightly crush walnuts by hand and spread out over an medium oven tray. Toast in the oven until slightly brown and crispy, about 15-20 minutes. Set aside.
Place the sugar into a medium saucepan and place over a medium heat. Place the cream into a small saucepan over a low heat until warmed but not boiling. Remove from the heat.
As the edge of the sugar begins to melt, swirl the pan gently and occasionally until dark amber in colour. Remove from the heat and carefully whisk in the warm cream. Add the butter and continue to whisk until combined.
Add the salt flakes ½ teaspoon at a time, up to 2 teaspoons, or to taste.
Add the toasted walnuts to the caramel and stir until evenly mixed.
Spoon the filling into the tart shells. Remove the tarts from the tins. Place onto serving plates and serve with a scoop of Star Anise Ice Cream.