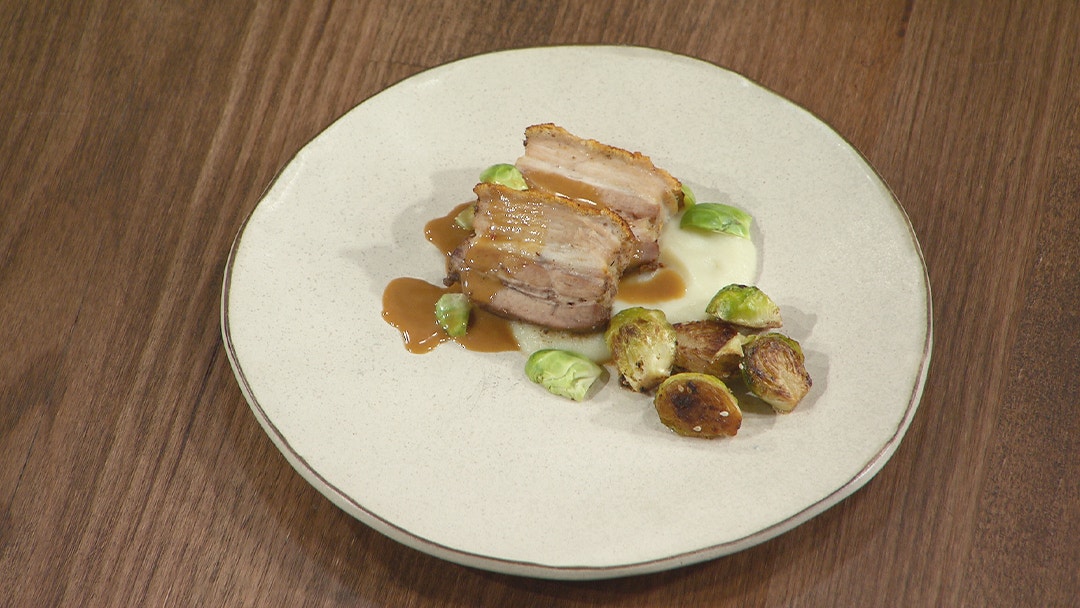 Ingredients
Pork and Apple Cider Reduction
Cauliflower and Garlic Puree
Steps
Preheat fan-forced oven to 200°C.
For the Salt Crusted Pork Belly, fill a shallow baking tray with boiling water and place on the lowest shelf in the oven. Ensure the tray is larger than the piece of pork belly and that there is water in it throughout the cooking time.
Grind fennel seeds and peppercorns in spice grinder until fine. Mix with chilli flakes and 1 tablespoon salt flakes. Rub spice mix onto the meat side of the pork belly. Score the pork skin then completely cover with remaining salt flakes. Place the pork belly onto a wire rack over the baking tray with the water. Roast the pork belly in the oven for 45-50 minutes.
Remove the salt crust from the pork. Set the oven function to fan grill at 220°C and cook until skin crackles, about 10 minutes, checking regularly to prevent crackle from burning. Remove from the oven and set aside to rest for 10 minutes. Cut into portions to serve.
For the Brussels Sprouts, dissolve sugar and a pinch of salt in the water then mix in the vinegar to create a pickling liquid.
Add the reserved outer leaves of the Brussels sprouts to the mixture, stir and place in fridge for an hour. Drain well to serve.
While pork is resting, place grapeseed oil in a medium frypan and fry sprout halves cut side down for 2 minutes.
Add the butter and continue frying on medium heat, flipping the sprouts occasionally, until the cut side of the sprouts are caramelised. Season with salt and pepper and remove from the heat.
Remove from the heat and strain the stock through a lined sieve into a small saucepan.
Bring to a simmer, then whisk in the butter and season with salt, to taste. Remove from the heat and set aside.
For the Pork and Apple Cider Reduction, place grapeseed oil in a large pan and fry the pork bones until browned.
Add the onion and garlic and fry until the onion begins to caramelise. Add the black peppercorns and fry for a further minute.
Deglaze the pan with apple cider, scraping the bottom of the pan and simmer until liquid is reduced by half.
Add the chicken stock, cover the pan with a lid and simmer on medium low heat until approximately 150ml of the mixture remains, about 45-50 minutes.
For the Cauliflower and Garlic Puree, bring a small saucepan of salted water to the boil. Chop the cauliflower into florets and add to the water along with the garlic.
Simmer cauliflower and garlic until cauliflower is tender. Drain excess water.
Add the cream process with a stick blender until smooth. Pass puree through a fine sieve and season with salt and pepper, to taste. Cover to keep warm.
To serve, spoon some Cauliflower and Garlic Puree in the centre of each serving plate. Top with Roast Pork slices and some Brussels Sprouts and pickled leaves. Pour hot reduction around pork.