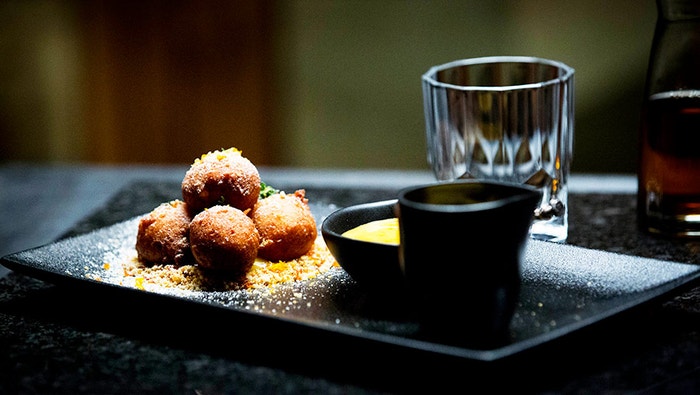 Steps
Heat oil in deep fryer to 180C.
For the Lemon and Mandarin Curd, place sugar and eggs into a small saucepan and whisk until pale. Whisk in lemon zest and juice and mandarin zest and juice until combined. Place over low heat and continue to whisk until slightly thickened. Gradually whisk in the butter, one cube at a time, until thickened. Remove from heat, pour into a bowl and set aside in the fridge until cool. Once cool, transfer to a piping bag and set aside in the fridge until needed.
For the Custard, place milk, cream, sugar, mandarin zest and thyme in a small saucepan and whisk to combine. Place over low heat and bring to a simmer, stirring occasionally. Remove from heat and discard mandarin zest and thyme.
Place egg yolks into a medium sized bowl and whisk lightly. Whisking continuously, slowly pour in the warm cream mixture and continue to whisk until combined. Return anglaise mixure to the saucepan and place back over low heat. Stir continuously until anglaise has thickened slightly and coats the back of a spoon. Remove from heat and strain through a fine sieve into a small serving jug. Set aside until needed.
For the Praline, line a baking tray with baking paper. Spread walnuts onto the lined tray and set aside. Place sugar into a small frypan and melt over a medium heat, swirling frypan occasionally if needed, until a deep brown caramel forms. Remove from heat and immediately pour over walnuts, sprinkle with thyme leaves and salt and set aside to cool. Once completely cool, break into shards and place into a food processor. Process to a crumb then season with salt to taste and set aside until needed.
For the Ricotta Donuts, place eggs and ricotta into a stand mixer fitted with a paddle attachment and beat until smooth. Add the sugar, ¾ cup of the flour, baking powder and a pinch of salt and continue to beat until a thick, smooth batter is achieved. Add remaining flour if required. Stir in the mandarin zest until combined.
To cook the Ricotta Donuts, drop teaspoon-sized amounts of donut batter into the preheated oil and fry, turning occasionally, until golden and cooked through, about 5-6 minutes. Remove from oil and drain on paper towel. Repeat with remaining batter.
To serve, place a heaped tablespoon of Praline onto serving plates. Make a well in the centre of the praline and pipe some Lemon and Mandarin Curd into the well. Place 5 Ricotta Donuts in a mound on top of the curd. Sift icing sugar over the donuts and sprinkle with some mandarin zest and additional praline. Serve with Custard and Lemon and Mandarin Curd in ramekins on the side.