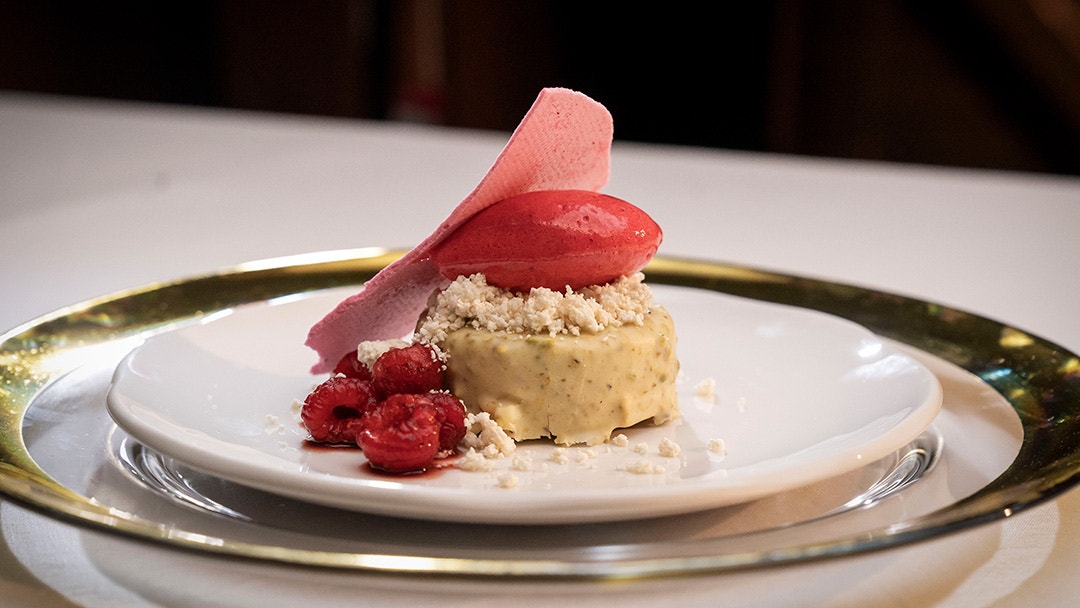 Ingredients
White Chocolate Pistachio Coating
Davidson Plum and Raspberry Sorbet
Davidson Plum and Raspberry Meringue
Steps
Preheat oven to 200C. Line a 25cm x 15cm baking tin with baking paper and set aside. Prechill ice cream machine.
For the Pistachio Financier, place butter into a frypan and cook until a hazel brown colour. Remove from heat and set aside to cool.
Place remaining ingredients into a food processor and pulse until combined. Add the brown butter and pulse until just combined.
Spread the financier mixture over the tray. Bake until lightly golden, about 15 minutes. Remove from oven and set aside to cool. Cut rounds with 6cm ring cutters.
Reduce oven to 100C.
For the Pistachio Mousse, place egg yolks and sugar into the bowl of a stand mixer and whisk until pale and thick. Add the pistachio paste and whisk until combined. Meanwhile, place 50g cream into a small saucepan and bring to just below simmering point. Remove from heat and pour into egg mixture, whisking continuously until combined. Pour into saucepan and stir continuously over medium heat until mixture reaches 80C. Remove from the heat and add drained gelatine and stir until melted. Pour over the white chocolate and stir to melt the chocolate. Allow to cool to 36C.
Once cooled, whisk remaining 150g cream to soft peaks and fold through pistachio mixture.
Pour the mousse into 6cm round 2cm deep silicon moulds until half full. Top with a disc of financier. Place into the freezer until solid, at least 4-6 hours.
For the White Chocolate Pistachio Coating, place chocolate and cocoa butter into a microwave safe bowl and cook in bursts, stirring in between, until melted. Stir through pistachios. Set aside to cool to 35-40C.
Unmould the frozen mousse and while still frozen, insert a wooden skewer into the cake side and dip each mousse into the pistachio coating. Allow excess to drip off and place onto a lined tray and allow to set. Remove the skewer and allow to defrost in the fridge before serving.
For the Plum and Raspberry Sorbet, place frozen plums and 50ml water into a pan and cook, covered, until softened and collapsed, about 15-20 minutes. Pass the plums through a drum sieve to remove the skins and seeds to obtain 200g puree. Place into a saucepan.
Add remaining ingredients and stir over medium heat to 50C to melt the sugar. Remove from the heat and cool over an ice bath.
Pour mixture into ice cream machine and churn until thick. Set aside in the freezer.
For the Davidson and Raspberry Meringue, combine the puree, egg white and sugar in the bowl of a stand mixer and whisk until thick peaks form, about 10 minutes.
Spread over a silicon mat or baking paper lined tray to a thickness of 3-4mm. Bake until crisp, about 45 -60 minutes.
Remove from the oven and dust with plum powder. Allow to cool and crisp then break into shards.
For the Macerated Raspberries, combine ingredients together in a bowl and set aside to macerate for 30 minutes.
For the White Chocolate Snow, mix ingredients together in a food processor until powdery. Store in an airtight container until needed.
To serve, place a covered mousse onto each serving plate. Top with White Chocolate Snow and quenelle of Davidson Plum and Raspberry Sorbet. Add Macerated Raspberries to the side and a meringue to finish.